How to Buy Bancor: The Coinlist Guide
Bancor was one of the coins aboard the hype train of 2017. And unlike many of its competitors from that time period (heard anybody pushing Dragonchain lately?), Bancor has managed to live up to the promise of its hype cycle, and remains an important crypto project in the space to this day. We've done extensive research and think that the easiest possible way to invest in Bancor is through Coinbull. We'll explain this and other methods in the Bancor review to come.
Buy Bancor in just a few minutes
Create a free account
Set up your trading account with eToro for free with your name, an email address and telephone number
Fund your account
Choose your preferred payment method and activate the account with the minimum deposit into your account
Start trading Bancor
Choose a cryptocurrency by clicking 'Trading Markets', set your risk limit and click 'Get Started' to start your investment strategy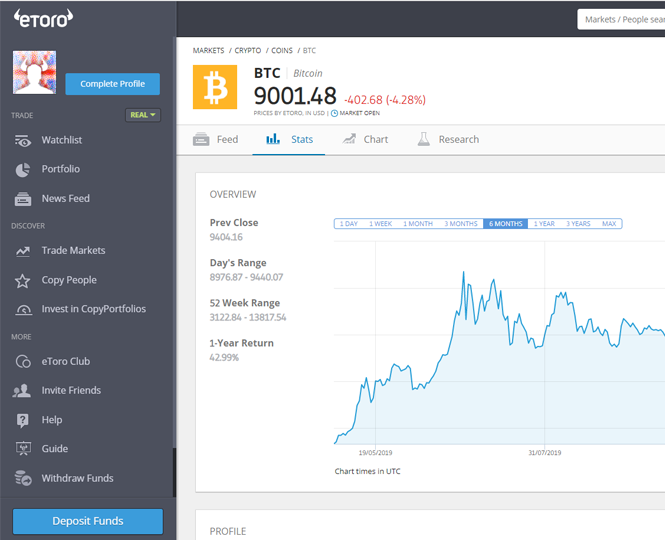 Min. Deposit
$50
Exclusive promotion
Accepts customers from the USA
Offers 15 crypto coins to buy&sell including BTC, LTC, ETC, NEO and more
Trade on the world's leading social trading and investing platform
Description:
eToro offers a wide range of cryptos, such as Bitcoin, XRP and others, alongside crypto/fiat and crypto/crypto pairs. eToro users can connect with, learn from, and copy or get copied by other users.
Payment methods
Wire Transfer, Bank Transfer
Full regulations list:
CySEC, FCA
Cryptoassets are highly volatile unregulated investment products. No EU investor protection. eToro USA LLC does not offer CFDs and makes no representation and assumes no liability as to the accuracy or completeness of the content of this publication, which has been prepared by our partner utilizing publicly available non-entity specific information about eToro. Your capital is at risk.
Min. Deposit
$1
Exclusive promotion
One of the largest cryptocurrency exchanges
High volume across all pairs
Perfect for large and small buyers/sellers
Description:
Bittrex Global has one of the most secure trading platforms and digital holding infrastructures in the world where customers can access exciting new products.
Payment methods
Credit Card
Min. Deposit
$1
Exclusive promotion
Huge range of cryptocurrencies
Description:
Binance has grown exponentially since it was founded in 2017 and is now one of, if not the biggest cryptocurrency exchanges on the market.
Payment methods
Cryptocurrencies
The Difference Between Trading and Buying
The ultimate beginner's guide to trading Bancor
Why Buy Bancor Now?
Bancor was founded to solve a problem in the crypto community. And today, the problem is bigger than ever. There are now thousands of cryptocurrencies in this industry. Some of them, like Bitcoin and Ethereum, have thousands of traders who buy and sell them daily. Other smaller coins don't. This can create a situation called "illiquidity". An exchange is liquid when it has coins to sell. But sometimes a smaller coin won't raise enough interest to provide sellers for buyers (or vice versa). Other times a small coin's profile raises suddenly, and centralized exchange become quickly sold out. Bancor wants to solve this problem with "smart coins" that act as financial intermediaries for trades like these. They aim to solve the illiquidity problem that smaller cryptos suffer from. It's a complicated process, but it works pretty well, and Bancor is definitely advancing in this still young industry. We think it's a grand time to buy Bancor. Bancor lost value along with every other major crypto in the crash of January 2018. At the time of this writing, the market is moving tentatively upward. If and when the market recovers, people who bought now will thank themselves for their own foresight. Don't think of Bancor as a crashed currency. Think of it as an innovative technology that's dramatically on sale.
What is the Best Site to Buy Bancor?
We've reviewed many, many cryptocurrency investment options. Some of these are conventional exchanges like Coinbase and Binance. Others are CFD options like eToro and Coinbull. After comparing their platforms from top to bottom, we've concluded that Coinbull is the easiest way to invest in many cryptocurrencies, Bancor included. Coinbull sells CFDs, not literal coins. But if you just want to invest in Bancor (without any interest in actually using the coins), the CFD investment model is likely perfect for you.
Coinbull has an excellent array of cryptocurrencies that are actively traded and developed at the time of this writing. Their interface is as easy to use as any you'll see. Their spreads are fairly tight, and fees are minimal. The company is growing by leaps and bounds, solving problems and adding features at every turn. We think Coinbull is the best option to buy Bancor now, and that this will prove true in greater proportion as time goes on.
Conclusion
Bancor is a promising cryptocurrency with many active use cases in the crypto markets. It's easy to see how one day, if Bancor is successful, this kind of technology could be used to make trading of many world currencies more efficient. Bancor is also priced at a small fraction of its all time high price record. If you believe in the future of Bancor, now is definitely the time to buy.
Buy Now
To buy cryptocurrency, you must create a wallet for yourself to hold the tokens. Trading does not require this.
Ownership:
If you wish to support the ethos of the cryptocurrency, buying is better. If you are looking to profit on investment, trading offers more options.
Different Goals:
Trading through a CFD is much more likely to provide more regulation to protect investment. Buying does typically offer this added security.
Regulation:
Frequently asked questions
Yes, but your options are limited. Bancor isn't as big as some other cryptocurrencies. Only the biggest crypto coins (Bitcoin, Ethereum, etc.) have many ways to trade them directly for fiat money like USD and Euro. You're not completely out of options, though. CFD brokers like eToro and Coinbull accept USD. Unfortunately, of the two, Coinbull is the only one that sells Bancor. Your only other option to buy Bancor with USD (or any other fiat currency, for that matter) is to buy directly from another individual, who you know online or in the real world. Give them cash, and have them send you Bancor.

As we always say, no one can predict the future. But we can all make our educated guesses. We like Bancor's technology, but the coin has not been without its hiccups. A recent hack, combined with early issues with this much hyped token have made many question Bancor's fundamentals. On the other hand, numerous world class engineers and economists are involved with Bancor's long term prospects, following its massive ICO. We wouldn't bet against Bancor.

If you don't use major currencies like USD, EURO, or BTC, it can be challening to invest in crypto for the first time. Don't let this stop you. Perhaps the easiest way is to buy Bitcoin first, with whatever currency you have. There are currency specific exc