As with many jurisdictions worldwide, the United Kingdom does not have a solid legal framework for cryptocurrencies. However, crypto-related activity is high. For example, the country ranks third worldwide based on the number of ICOs. But is it possible to buy cryptocurrency in the UK?
Yes, you can buy digital assets in the UK, but what is the process like? We acknowledge that not everyone is conversant on matters of cryptocurrencies and how to buy them. That is why we prepared this guide to take you through the process gently.
Quick Guide to Buy Cryptocurrency in the UK Today
Whether you want to buy actual tokens or only wish to trade the price fluctuations, you must create an account. The account is needed to enable you to interact with the cryptocurrency market. To sign up, you will be required to supply your full name and contact details. In addition, the exchange or broker might ask for additional information, such as a copy of identification documents for verification.
Once the account is ready, it is now time to go active in the market, but not before there are funds in the crypto wallet. The UK has one of the most advanced financial ecosystems in the world, which means you have access to a myriad of payment options to choose from when funding your account. Thankfully, the platforms will present you with a list from which you will select a preferred channel.
Your account is now active, and it's time to reach the market. First, however, it is noteworthy that the crypto purchasing process depends on the token you want. For example, Bitcoin is the most accessible token to buy because of widespread support. Also, there are many different ways to buy digital currency. For example, you could buy crypto with GBP straight from a peer-to-peer exchange or an exchange.
Where to Buy Cryptocurrency in the UK in 2021?
In the UK, you can buy cryptocurrency from an exchange or a broker. Your ultimate goal for buying and selling digital currencies will determine if you select an exchange or the latter. But what is the difference between the two?
A cryptocurrency exchange sells actual tokens. For example, Coinbase delivers an actual Bitcoin token into your private wallet at the end of a purchasing process. You can use the tokens later to settle transactions or sell at a profit. First, however, you must store the tokens in a wallet. Some exchanges offer crypto custody services, but some buyers opt to hold the tokens in their private wallets.
On the contrary, a broker sells financial products that track cryptocurrency prices. An example of the product is CFDs or contract for differences. For example, a Bitcoin CFD tracks the token's price relative to another cryptocurrency, i.e., USDT/BTC, or relative to a fiat currency, i.e., GBP/BTC.
The CFDs, also called derivative products, do not involve actual tokens. For instance, the broker pays you in cash when you earn a profit. This means investors do not have to worry about how and where to store tokens. Some investors find CFDs better because of convenience and liquidity. Others view actual tokens as an asset for long-term investing.
So, where do you buy Cryptocurrency in the UK? We have provided you a list of platforms that we believe offer the best services. They are listed below.
Min. Deposit
$50
Exclusive promotion
Accepts customers from the USA
Offers 15 crypto coins to buy&sell including BTC, LTC, ETC, NEO and more
Trade on the world's leading social trading and investing platform
Description:
eToro offers a wide range of cryptos, such as Bitcoin, XRP and others, alongside crypto/fiat and crypto/crypto pairs. eToro users can connect with, learn from, and copy or get copied by other users.
Payment Methods
Bank Transfer, Wire Transfer
Full regulations list:
CySEC, FCA
Min. Deposit
$20
Exclusive promotion
Margin Trading with full legal compliance
Description:
Cex.io offers exchange of fiat currency for Bitcoin Ethereum, Tether, and 23 other cryptocurrencies, as well as Bitcoin/Ethereum trading against the USD.
Payment Methods
Credit Card, Cryptocurrencies, Debit Card, Wire Transfer, skrill
Min. Deposit
$10
Exclusive promotion
The broker offers access to a trusted MetaTrader trading system
Pricing is ensured to be completely transparent, also providing accuracy and speed
Trade a Wide Variety of Assets with Leverage up to 1:500
Description:
LonghornFX is a true ECN STP broker dedicated to delivering a superior trading experience to traders no matter their level of experience. Their services are based on transparency, innovation and efficiency, ensuring an unparalleled trading experience for all.
Payment Methods
Bitcoin, Credit Card, Debit Card, Visa
LonghornFX offers high-leverage trading on a wide variety of assets. Trading with leverage carries a degree of risk which may result in losing more than your investments. Clients should practise risk management to protect themselves from losing more than they can afford when trading with leverage.
Step by Step Guide - How to Buy Cryptocurrency in the UK
The cryptocurrency space in the UK is vibrant and still growing. However, we are aware that not everyone knows where and how to purchase digital currencies. In this section, we explain how to buy cryptocurrency in the UK in five steps.
Step 1: Find an Appropriate Platform to Buy Cryptocurrency
For some reason, you have decided to enter the cryptocurrency market. However, you may not find the appropriate platform if you are not clear on what you want.
For example, if your reason for buying the token is short-term exposure, then a broker is the right platform. The platform offers cryptocurrency CFDs trading, allowing investors to get in and out of the market even for less than an hour.
On the other hand, if you are a long-term investor, then an exchange is the place to go. After buying the coins, you might want to keep them in a private wallet if you wish to retain total control.
No matter the platform you select, we suggest that you always look out for regulated businesses. This is because a licensed platform is a legitimate business, which prevents you from fraudsters. Also, a regulated trading platform must adhere to relevant laws, including laws that protect clients like you.
Step 2: Registration / Create a New Account
Brokers and exchanges can only serve you after you register with them. This helps them to give you an identity that will facilitate your online interactions. Creating an account is straightforward. First, go to the registration area and provide the necessary details – usually your full name and an email address or phone number.
All regulated trading platforms are obligated to verify the identity of their customers. As such, you will be required to supply copies of identification documents and sometimes a recent utility bill to verify the provided address. This verification process, also called KYC or know-your-customer process, helps the platforms avoid onboarding money launderers and other criminals.
Step 3: Deposit Funds
Usually, a brokerage account requires funds to operate. Thankfully, the trading platforms in the UK support a wide range of payment providers to satisfy different tastes and preferences. The funding process begins when you hit the "Make a Deposit" button on the trading platform. Then, the platform will provide helpful prompts to guide you through the funding process.
Contrariwise, most exchanges support direct transactions from your bank account, so no need to deposit funds.
Step 4: Start Trading or Buying Cryptocurrency
A funded account is ready for trading. On the broker's trading platform, navigate to the trading section and select the appropriate cryptocurrency pair. For example, most brokers in the UK offer crypto pairs that include the GBP.
On the other hand, exchanges allow you to make spot purchases.
However, the differences between brokers and exchanges in the UK are not black and white. This is to say some brokers like eToro offer spot purchasing services, while some exchanges like Binance allow cryptocurrency options and futures trading.
Step 5: Optional Steps
Once the exchange fulfills your purchase order, you will have to choose whether to let the coins stay on the platform or send them to a private wallet. For example, you could leave the coins on the platform if the exchange offers staking services.
If you opened a position in the cryptocurrency market, it makes sense to erect a hedge. Hedging a trading position entails using risk-management tools to prevent unintended loss. You could also instruct the broker to exit the market when the price touches a certain level. This is possible using a take-profit or stop-loss order.
Buy Cryptocurrency in the UK today!
What is the Best Payment Method for Buying Cryptocurrency in the UK?
What is the Best Payment Method for Buying Cryptocurrency in the UK?
Your choice of a payment method depends on factors such as security, transaction speed, convenience and affordability. Since each one of us has unique preferences, the definition of "best," in this case, is entirely subjective.
As mentioned earlier, the UK is the global headquarter of finance, and every payment method imaginable is available.
Buy Cryptocurrency with Cash: cheapest means for buying crypto anonymously in the UK.

Buy Cryptocurrency with Credit Card: vendors offer instant crypto purchase services with credit cards.

Buy Cryptocurrency with Bank Transfer: most secure payment method supported by all platforms.

Buy Cryptocurrency with PayPal: not all platforms support PayPal, but clients enjoy top-notch convenience for those that do.

Buy Cryptocurrency with Bitcoin: most exchanges accept Bitcoin for other digital currencies.
Why Buy Cryptocurrency?
Cryptocurrencies exploded onto the global scene after Bitcoin caught the attention of the masses. Despite their popularity, cryptocurrencies are not likable to authorities in the UK. Nevertheless, the potential of the new money to solve the problems of legacy finance keeps attracting new believers. For example, new figures estimate that 2.3 million Britons own digital currencies, up from 400,000 in 2020.
Why exactly are cryptocurrencies attractive? It could be technology. Cryptocurrencies run on a blockchain network, a distributed ledger maintained by a network of nodes or computers. The network is secure, and transactions are cheap and seamless because the technology obviates the need for central authorities.
During the coronavirus pandemic that spawned lockdowns worldwide, the value of cryptocurrencies skyrocketed. For instance, the price of Bitcoin rose 606% between July 15, 2020, and April 4, 2021.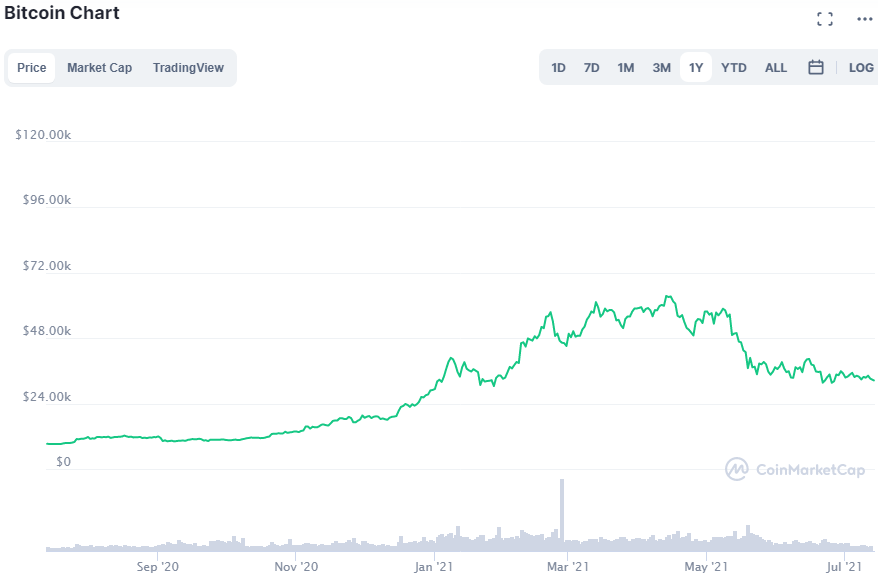 Bitcoin 1-year price chart Source: CoinMarketCap
More adults in the UK are getting to know cryptocurrencies because of the extensive media coverage of the massive bull run. For instance, 73% of the adults in 2020 had heard about digital money, compared with 78% at the time of writing.
Exponential rallies, such as the most recent one that peaked in May, make investing in cryptocurrencies an attractive proposition. But that is not all. Digital currencies have great potential to upend almost all industries today, as well as spawning new ones.
For example, the ecosystem has given rise to decentralised finance (DeFi). According to DeFi Pulse, the total value locked in DeFi projects over the past year grew from $2.52 billion to $53.46 billion at the time of writing. The value peaked at around $90 billion in May 2021. Simply put, there is great potential for cryptocurrencies to rule tomorrow's finance, which makes investing in the assets today an intelligent move as per some veteran investors.
Is it Legal to Buy Cryptocurrency in the UK?
The UK does not have specific cryptocurrency laws, but regulators do not prohibit their sale. In 2020, the Financial Conduct Authority (FCA) labelled cryptocurrencies as property, which seemed like a step towards official recognition of the industry. The Bank of England does not deem cryptocurrencies to be money; hence the assets are not a danger to the country's banking system. Perhaps this is why the authorities are approaching the sector in a measured manner.
Where Can I Use Cryptocurrency in the UK?
A few businesses around the UK accept cryptocurrency as money, although most of them are small and little known. They include CarReg.co.uk, Diamonte Jets, Project D, etc. However, there is a high likelihood that big-name brands have stayed away from accepting crypto as currency because of a lack of official recognition. Also, big banks like HSBC refuse to facilitate crypto-based transactions.
Nevertheless, digital currencies are a common feature in video games. As more people interact with the tokens and the government unveils concrete regulations, there is a chance that crypto will gain money status.
Additionally, at the time of writing, there were 194 cryptocurrency ATM's in the UK. All of the tellers accept the conversion of cash into Bitcoin and vice versa. A few of the ATMs accept tokens such as Ethereum, Monero, Litecoin, Thther, Ripple, Dogecoin, Zcash, Dash, and more.
Our Recommended Best Way to Buy Cryptocurrency in the UK
As we stated earlier, the UK is a cryptocurrency stronghold. Therefore, many vendors want to set up shop in the country to be part of the fantastic community. The problem is that this leads to too many options to buy Cryptocurrency. Lucky for you, we spent countless hours sifting through the options to bring you the best platform available that we have listed below.
Min. Deposit
$50
Exclusive promotion
Accepts customers from the USA
Offers 15 crypto coins to buy&sell including BTC, LTC, ETC, NEO and more
Trade on the world's leading social trading and investing platform
Description:
eToro offers a wide range of cryptos, such as Bitcoin, XRP and others, alongside crypto/fiat and crypto/crypto pairs. eToro users can connect with, learn from, and copy or get copied by other users.
Payment Methods
Bank Transfer, Wire Transfer
Full regulations list:
CySEC, FCA
Frequently Asked Questions
The UK does not have specific cryptocurrency laws, nor do authorities proscribe their sale. This measured approach has enabled the crypto ecosystem in the UK to thrive.

Cryptocurrencies are not officially recognised as money in the UK, but authorities do not criminalise their usage. As such, some merchants accept them. So, you cannot use digital assets as money, from an official sense, but unofficially, the coins are in widespread use.

Yes. There are plenty of crypto brokers in the UK that offer trading services. However, we advise that you make sure the broker is correctly licensed before signing on.

Regulators in the UK do not recognise cryptocurrencies as money and cite the volatile nature of the market as an indication of fundamental risk. However, digital assets are risky when you get in without proper information. Therefore, it is best to always conduct exhaustive due diligence before exposing yourself to any digital asset.

It depends on whether the masses will accept cryptocurrency. Recall that money is any item that society agrees upon to store value and facilitate the transfer of value.