How To Buy Compound | Ultimate Guide To Buy COMP
Compound is a Decentralised Finance (DeFi) protocol based on the Ethereum blockchain that enables people to easily borrow and lend different Ethereum and ERC-20 crypto assets. It allows them to earn interest on their crypto holdings by depositing their coins into one of the many pools supported by the Compound platform, or take out collateralised loans from such pools.
If you're keen on learning how to buy Compound, this guide will provide you with all the essential details and will cover various strategies and steps involved in the process, as well as answer any queries you may have in this regard.
5 Steps to Buy Compound with eToro Now
Buying any cryptocurrency with eToro is easy, simply follow the steps below:
Sign up for free with eToro, entering your details in the required fields.

Fill out the questionnaire, this is both educational for you and eToro.

Click 'Deposit', you'll then be asked how you want to fund your account.

Choose your required payment method, follow the simple steps to link your payment.

Enter the amount you want to deposit and you're good to go!
Our Recommended Platform to Buy Compound
There's a fair chance that you've already done your share of due diligence on how to purchase Compound. If you are confident about your knowledge of this cryptocurrency and its buying process, please feel free to use any of the below-listed cryptocurrency brokers and exchange platforms to begin your Compound journey right away.
Min. Deposit
$50
Exclusive promotion
Accepts customers from the USA
Offers 15 crypto coins to buy&sell including BTC, LTC, ETC, NEO and more
Trade on the world's leading social trading and investing platform
Description:
eToro offers a wide range of cryptos, such as Bitcoin, XRP and others, alongside crypto/fiat and crypto/crypto pairs. eToro users can connect with, learn from, and copy or get copied by other users.
Payment Methods
Wire Transfer, Bank Transfer
Full regulations list:
CySEC, FCA
Where to Buy Compound in 2021
There are a couple of ways you can benefit from the Compound price movements. You can either buy COMP as a form of investment, or instead invest in it through a derivative product like Contracts for Difference (CFDs) provided by a cryptocurrency broker to exploit its price fluctuations. No matter which option you choose, you'll be in with a chance to benefit from its price volatility.
Using CFDs to invest in Compound serves as an attractive choice for many people, as it does away with the need of dealing with the technical processes and complexities associated with buying its ownership, and having to save the coins in a crypto wallet. You simply open an appropriate COMP CFD to long/short the token, depending upon which way you expect its price to move, and close the contract to book profit at the desired level.
A significant advantage of trading COMP through derivatives is that there's no actual COMP buying/selling involved, as you simply speculate on its value using derivatives.
If you'd like to invest in Compound with a long-term perspective, you'd be better off buying and holding the ownership of COMP tokens. Such purchases can be normally done from both cryptocurrency exchanges and brokerage platforms.
Min. Deposit
$50
Exclusive promotion
Accepts customers from the USA
Offers 15 crypto coins to buy&sell including BTC, LTC, ETC, NEO and more
Trade on the world's leading social trading and investing platform
Description:
eToro offers a wide range of cryptos, such as Bitcoin, XRP and others, alongside crypto/fiat and crypto/crypto pairs. eToro users can connect with, learn from, and copy or get copied by other users.
Payment Methods
Wire Transfer, Bank Transfer
Full regulations list:
CySEC, FCA
Min. Deposit
$20
Exclusive promotion
Margin Trading with full legal compliance
Description:
Cex.io offers exchange of fiat currency for Bitcoin Ethereum, Tether, and 23 other cryptocurrencies, as well as Bitcoin/Ethereum trading against the USD.
Payment Methods
Credit Card, Debit Card, Wire Transfer, Cryptocurrencies, Skrill
Min. Deposit
$10
Exclusive promotion
The broker offers access to a trusted MetaTrader trading system
Pricing is ensured to be completely transparent, also providing accuracy and speed
Trade a Wide Variety of Assets with Leverage up to 1:500
Description:
LonghornFX is a true ECN STP broker dedicated to delivering a superior trading experience to traders no matter their level of experience. Their services are based on transparency, innovation and efficiency, ensuring an unparalleled trading experience for all.
Payment Methods
Credit Card, Debit Card, Visa, Bitcoin
LonghornFX offers high-leverage trading on a wide variety of assets. Trading with leverage carries a degree of risk which may result in losing more than your investments. Clients should practise risk management to protect themselves from losing more than they can afford when trading with leverage.
How to Buy Compound with a Broker
It is highly recommended that you use a regulated cryptocurrency broker to buy Compound or trade in it through a CFD, as that will protect you from any unforeseen circumstances. Although it is good to go with portals that charge lower fees, you wouldn't want to choose them at the cost of the security aspect.
1. Register with the Broker
A cryptocurrency broker usually mirrors the conventional trading environment, and signing up with one is not that difficult. For instance, Skilling is one such platform where you can register by simply entering some basic details like your email address, username, name and a preferred password. Similarly, eToro is another reputed brokerage platform that follows the same registration procedure, but also offers the flexibility of using one's Google or Facebook credentials to sign up with a few mouse clicks.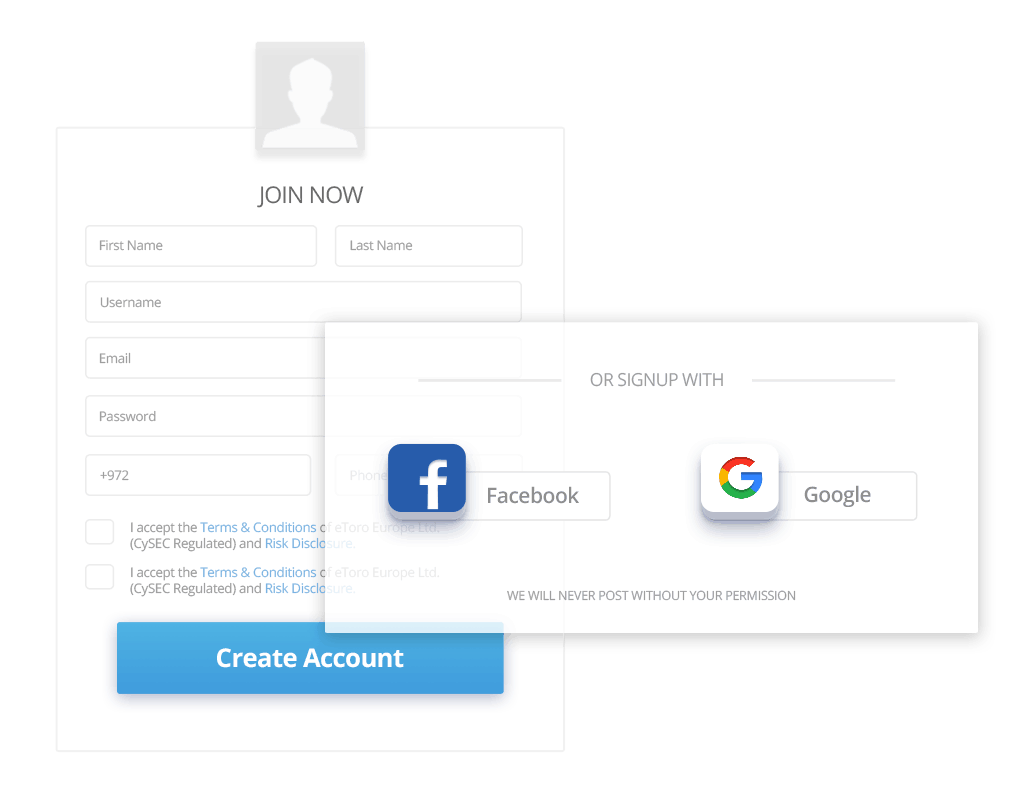 Source: eToro
2. Verify your Identity (KYC Process)
A well-known and reliable brokerage service will always comply with the local jurisdictional laws and norms set by leading financial authorities, implying that it will verify your identity before allowing you to use its services. We're referring to the Know Your Customer (KYC) process, which requires you to upload some photo ID and a proof of address before you can make a purchase. Using a regulated broker that follows these practices will ensure that you'll always have someone to turn to in case of any accidents.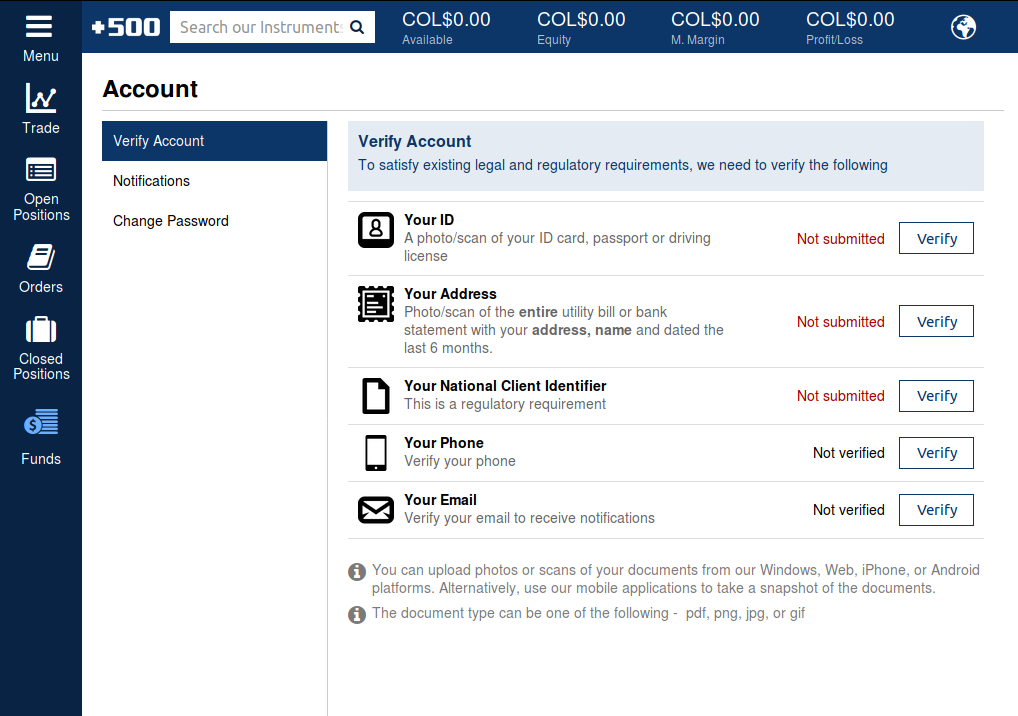 Source: Plus500.com
3. Deposit Funds with your Preferred Payment Method
Most cryptocurrency brokers will require you to deposit funds in fiat currency to be able to place trades with them. Once you're done with the registration and KYC process, you can use the 'Deposit' option provided by the broker to check the supported payment methods. Different payment methods confer different transaction times and fee structures, so choose the method that works best for your needs.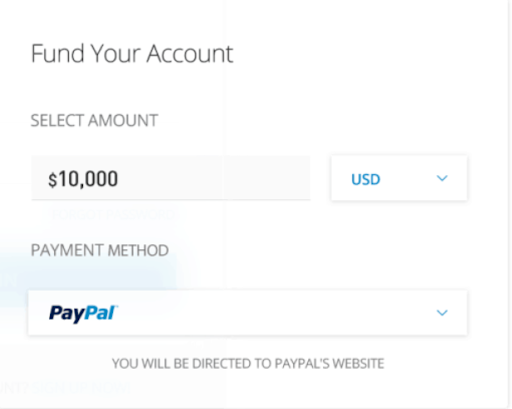 Source: eToro
Make sure that your computer is well-protected and has a good antivirus and anti-malware installed, to prevent any malicious attacks. Additionally, ensure that you're on a legitimate website before processing any payment. Furthermore, never hand out your password or PIN to anyone, even if the person at the other end claims to be representing the trading platform or the bank.
4. Open a Position to Long/Short Compound
When it comes to trading COMP for registering potential profits, there are a couple of basic approaches you can use - taking long or short positions.
When you're taking a long position on Compound, you're essentially betting on the COMP's price to increase in the near future. Once it increases to the desired level, you can sell off the purchased COMP investment, and book the appropriate profit. You can do this using a CFD or by purchasing the tokens directly.
A short position, on the other hand, implies that you're hoping for the COMP's price to decrease in the near future. This type of trade can usually be placed only through a derivative product like CFD. Shorting is very useful for traders, as it allows for profits to be generated even in a bear market.
Please note, as the cryptocurrency market is highly volatile in nature, you should use appropriate risk management measures to safeguard your profits, and minimise your losses. This can be accomplished by defining appropriate Stop Loss and Take Profit points in your trade setup beforehand.
5. Close your Position
Closing your position simply refers to finishing your trade. If you have opened a long position, you will sell your COMP when you are happy with your unrealised gains. This will make your profits concrete, and you can withdraw them. Alternatively, if you went short on COMP, you can close your position when the price has dropped. This will then allow you to realise your profits.
Please note that you can automate closing your positions: Take Profit and Stop Loss orders mean that you can specify your profit targets and loss tolerances before you open the trade. This means that your risk management strategy can be executed even when you are not at your computer.
How to Buy Compound with an Exchange
People with a long-term investment strategy buy the Compound coins themselves, and store their tokens safely in a crypto wallet, waiting for their price to appreciate. This is referred to as the 'Buy and Hold' strategy.
Just as a good broker platform is crucial for speculating on Compound's price changes, you must opt for the best cryptocurrency exchange to buy and sell your COMP tokens. Other than the reputation and reliability of the exchange, you should also refer to their transaction fees, and charges levied on withdrawals and deposits. Though fees are an important consideration, you should balance this aspect with the right level of security offered by the portal.
In the same way, go through the regulatory compliance and legal aspects of the exchange. Please remember, not every platform was created the same. Transacting on an unregulated exchange can put your investments at great risk, leaving you with nowhere to turn to, in case of theft, bankruptcy or a system hack.
1. Set up a Compound Wallet
Cryptocurrencies, being a form of digital asset, require a safe place for their storage, and the same applies to Compound as well. However, setting up a crypto wallet can be a slightly complex affair, with various technical terms like public and private keys involved. That being said, once you sum up the courage to venture into it, you'll discover that it's rather simple.
In broad terms, there are two important categories of cryptocurrency wallets available in the market, and you can go with any that best suits your needs:
Software wallets - Cryptocurrency wallets offered in the form of a software or app, meant to be run on a desktop/laptop computer or mobile device, are referred to as software wallets. A hot wallet is another term often used to refer to them, as they mostly stay connected to the Internet. This is also a drawback for them, as their constant connectedness to the Internet leaves them vulnerable to hacking attempts, and potential compromise of the cryptos' private keys. Please note, web wallets provided by cryptocurrency exchanges are also a type of such software hot wallets.
Hardware wallets - These are physical devices which are also a type of cold wallet, due to their disconnectedness from the Internet most of the time. Their off-line nature also renders them a higher degree of security, making it difficult for malicious entities to break into them.
2. Choose and Join an Exchange that sells Compound
You can join any of the various crypto exchanges operating online, supporting both buying and selling of Compound tokens. Some of the well-known exchanges include Coinbase, Binance, Poloniex, Coinmama, and CEX. Please note, the basics of investing in and buying COMP stay the same irrespective of the exact exchange platform used. Nevertheless, it's advisable to go through their individual fee structure, offers, features, user interfaces, reviews, and more to gain a better understanding of their workings, prior to signing up with any of them.
In addition, it's also important to learn about the amount of data they seek from you, to comply with KYC norms and other regulatory needs. While some may ask only basic details and easily accessible documents, others may require you to upload in-depth information, including details of your income sources. Please note, it's recommended to go with a reputed and well-regulated exchange platform.
3. Choose Your Payment Methods to Buy Compound
After you've registered with your preferred Compound exchange, it will be time to deposit funds to the platform, to buy the cryptocurrency. You may be able to make this deposit in a fiat currency and/or cryptocurrency of your choice, depending upon the platform.
If you choose to upload funds in fiat currency, you can do so using a credit/debit card or bank transfer. Although bank deposits are considered cheaper and safer, they may take anywhere from half an hour to a few days for processing.
Credit/debit card deposits on the other hand are processed within a few minutes, but since they require entering of the card details, including CVV, you should be extra careful in ensuring that you're dealing with a safe portal. Regulated exchange platforms deliver a higher level of security and are hence preferred in this regard.
4. Place an Order to Buy COMP
The exchange you choose for your COMP purchase may or may not provide you with a COMP-fiat trading pair. In case it doesn't, you'll need to take a slightly longer route and purchase a cryptocurrency paired with COMP first. Bitcoin, being the leading gold standard of cryptocurrencies, will often be available as a trading pair with both COMP as well as a fiat currency of your choice.
For instance, Binance doesn't provide a direct fiat pair for COMP but has COMP pairs available with USDT, BUSD, and BTC instead. In this scenario, any US dollars you deposit using your credit/debit card or bank transfer, will be automatically converted into BUSD stablecoin by the exchange.
All you need to do is head to the trading dashboard, select a COMP trading pair of your choice, and then use the 'Buy' section to place a Stop-Limit, Limit or Market order to buy COMP.
5. Safely Storing Your Compound in a Wallet
Even though all well-known crypto exchanges provide inbuilt web wallets, it's always recommended to opt for a separate non-custodial wallet, off the exchange, to store your Compound tokens. Please note, this will be particularly important if you're using the long-term 'Buy and HODL' investment strategy.
As we've already explained the set-up of popular wallet types earlier in the Step 1 of this section, at this point you simply need to access the chosen COMP wallet and note down its public key. Thereafter, you can head to the exchange wallet, select COMP, and then the withdrawal option. You'll be asked to enter the destination wallet address, and will need to enter the public key of your chosen crypto wallet here, to begin the transfer process.
You may even be asked to input a Two-Factor Authentication (2FA) code at this point, if this security feature is enabled. It's meant to make sure that you're the only one transferring COMP from the exchange account to an external software/hardware wallet.
Should you Buy or Trade Compound?
The core purpose of exploiting Compound's price movements is to increase your wealth, and trading in and buying COMP are two separate approaches in this regard.
When we talk about buying Compound, we're essentially referring to its purchase on an exchange or broker platform, and then storing COMP tokens in a separate crypto wallet.
Trading usually involves speculating on COMP's future price changes, using a brokerage platform. In this case, you never exchange the ownership of COMP tokens, and only bet on their future price.
It's commonly noted that the long-term crypto holders opt for exchanges, while the short-term professional traders go with the brokerage services. Ultimately, it's your investment or trading strategy that will determine whether you trade or buy Compound.
What's the Difference Between a Compound Exchange and a Broker?
As can be gauged from the name, an exchange platform facilitates easy exchange of cryptocurrencies with each other. They are developed on the premise that you'll buy/sell ownership of crypto coins either for transactional purposes, or with a long-term investment horizon.
A broker on the other hand though may allow you to buy/sell ownership of Compound too, its USP will lie in providing you with different financial instruments like CFDs, Futures, Options, and others to help you capitalise on COMP's future price movements. Most brokerage portals accept only fiat currencies and pay out in the same, while exchange platforms are usually open to accepting crypto deposits too.
Compound: Long Vs Short Term Investment
It's your investment horizon or the time-length for which you wish to stay invested that will determine the platform you choose. If you'd like to buy and hold onto COMP tokens, you're most likely to go with a reputed crypto exchange. But if you're only interested in exploiting COMP's price movements over the short-term, a broker platform will be a better choice.
3 Tips to Buy Compound
Below listed are 3 short, yet extremely useful tips to help you buy Compound in a safe and potentially profitable manner.
1. Choose the Right Time and Do Your Own Research on Compound
Selecting the right time to purchase COMP can significantly improve your potential gains at the time of closing your investment. You should do thorough due diligence on your part, looking into all possible technical and fundamental analysis, to make sure that you enter the market at the right time. In case you're not good at research, you can always take some expert's help.
2. Comparing Costs to Buy Compound
When you invest in Compound, it's not only the market value of COMP that you'll be paying for. There will be additional factors like transaction fees, withdrawal fees, deposit fees, and difference in exchange rates that will also come into play. While all of these are often neglected, they can have a notable impact on your investment, particularly if it's of a considerable amount.
3. Safety and Security when Buying Compound
We cannot stress enough the security of the trading platform you buy Compound on. Any compromise in this aspect can wipe out your entire crypto holdings. Hence, before signing up with any portal, check what all security measures and encryption technologies, like 2FA and so on, are in place. Regulated platforms are always better in this regard as they're mandatorily required to follow stringent security protocols, to remain operational.
What is the Best Payment Method for Buying Compound
Buy Compound with Cash: P2P services and Escrow options are popular for Compound.
Buy Compound with Credit Card: Widely accepted, convenient and facilitates almost instant COMP purchases.
Buy Compound with Bank Transfer: One of the most secure payment methods, but takes comparatively longer time for processing.
Buy COMP with Bitcoin: Almost all exchange platforms offer a COMP-BTC trading pair; ensures quick and convenient coin exchange.
Buy Compound with Paypal: Fast and cheaper than credit card, but not as widely accepted.
Other Ways to Buy Compound
Although it's fairly easy to acquire Compound on a crypto exchange or broker website, there are a few other ways you can get hold of the popular cryptocurrency.
You can look up some well-known Peer-to-Peer (P2P) exchanges that may possibly list Compound as an available digital asset. Though this method may work out to be cheaper, the transfer fee and network congestion can make it sometimes a little expensive and slower.
Another way to acquire Compound is by becoming a lender or borrower on the Compound platform. Each day, approximately 2312 COMP tokens are distributed among the protocol's users, spread over different markets, with half going to the suppliers' side and the other half to the borrowers.
Armed with all the above info on how to buy Compound, you should be well on your way to make your first COMP purchase.
Frequently Asked Questions
There were a total of 5,247,025 COMP in circulation at the time of writing, out of a total maximum supply of 10,000,000 COMP tokens.

At the time of writing, the all-time high price of COMP was $911.20 reported on May 12, 2021, and all-time low was $61.25 on June 18, 2020.

Yes, all regulated exchange platforms will require you to comply with their KYC procedures, to be able to buy COMP through them. Doing so is only for your benefit as it helps create a safe and secure environment for everyone involved.

The primary reason behind COMP distribution among the Compound platform's users is to ensure community governance of the Compound protocol.

As soon as you start using the Compound platform to borrow or lend digital assets, you will automatically start accruing COMP. This COMP distribution can be tracked and claimed through the Compound Dashboard here.
Alternative Cryptocurrencies