Dogecoin (DOGE) has been one of the breakout stars of this cryptocurrency bull market, and the original canine meme coin has now claimed a seemingly permanent spot in the top ten cryptocurrencies after winning the support of multi-billionaire businessman Elon Musk.
Are you an investor looking to find out where and how to buy, sell and store Dogecoin in the UK? If so, then look no further than this guide. We'll take you through the whole process of buying Dogecoin, paying attention to the particulars of the UK market such as regulatory status, payment options, and the best DOGE vendors in the British Isles.
Quick Guide to Buy Dogecoin in the UK Today
Select one of our recommended broker or exchange platforms from the list below. You will need to enter an email address or mobile number to create an account, after which you may be required to submit documentation to prove your identity. This is required for legal reasons, and you can rest assured that you are joining one of the best and safest places to buy Dogecoin in the UK.
You can choose from a range of payment methods including bank transfer, credit/debit card, crypto payment, or third-party payment processors like PayPal. Make a deposit, and wait for the funds to show up in your account. Once the money has arrived, you are ready to start trading. Please note that there may be deposit limits in place when you first open your account.
As soon as you have fully set up your account and made your first deposit, you are ready to buy Dogecoin. Most brokers and exchanges will allow you to purchase DOGE directly with GBP, so look for a "Buy Dogecoin" option or a "DOGE/GBP" trading pair. Simply enter the amount of DOGE you want to buy (or the amount of GBP you want to spend), and make your purchase.
Where to Buy Dogecoin in the UK in 2021?
hen purchasing Dogecoin, UK-based crypto traders can choose to use either a cryptocurrency exchange or a broker.
Exchanges allow investors to purchase real DOGE tokens. This is a popular option for long-term investors (sometimes called "HODLers"), who can transfer these tokens into a private cryptocurrency wallet.
Brokers are typically popular with traders who want to speculate on the price of Dogecoin using financial derivatives such as contracts for difference (CFDs) and futures contracts. The main benefit of brokers is that the trader doesn't have to go through the hassle of setting up a wallet.
For the convenience of our readers, our team of cryptocurrency experts has shortlisted the best exchanges and brokers that sell Dogecoin in the UK.
Min. Deposit
$50
Exclusive promotion
Accepts customers from the USA
Offers 15 crypto coins to buy&sell including BTC, LTC, ETC, NEO and more
Trade on the world's leading social trading and investing platform
Description:
eToro offers a wide range of cryptos, such as Bitcoin, XRP and others, alongside crypto/fiat and crypto/crypto pairs. eToro users can connect with, learn from, and copy or get copied by other users.
Payment Methods
Bank Transfer, Wire Transfer
Full regulations list:
CySEC, FCA
Min. Deposit
$1
Exclusive promotion
The world's largest cryptocurrency exchange with over 2bn daily users
Innovative trading platform offering enormous range of crypto coins
Supports over 60 methods of payment including PayPal
Description:
Binance has grown exponentially since it was founded in 2017 and is now one of, if not the biggest cryptocurrency exchanges on the market.
Payment Methods
Cryptocurrencies
Min. Deposit
$20
Exclusive promotion
Margin Trading with full legal compliance
Description:
Cex.io offers exchange of fiat currency for Bitcoin Ethereum, Tether, and 23 other cryptocurrencies, as well as Bitcoin/Ethereum trading against the USD.
Payment Methods
Credit Card, Cryptocurrencies, Debit Card, Wire Transfer, skrill
Step by Step Guide - How to Buy Dogecoin in the UK
We know that making a cryptocurrency purchase can be a daunting prospect, especially for new investors. To lighten the load a little, we've broken down the process of buying Dogecoin in the UK into five simple steps.
Step 1: Find an Appropriate Platform to Buy Dogecoin
There really is no "best" or "worst" broker or exchange — your choice of trading platform will come down to your personal needs and investment style. If you want to buy Dogecoin and keep it under lock and key as a long-term investment, then an exchange might suit your needs better. Conversely, if you want to make a quick, hassle-free trade, then maybe a broker is the right choice for you.
Additionally, we always advise readers to opt for a regulated broker or exchange. While unregulated platforms may offer simple sign up processes or low fees, your interactions with them are not protected by any UK regulator or legal body, and as such these platforms are liable to leave you in the lurch if something goes awry.
Step 2: Registration / Create a New Account
Once you have selected a suitable regulated exchange or broker, you're ready to sign up for an account. You can sign up to any trading platform with an email address or phone number, and some even allow you to log in using a social media account.
Once you've set up your account, you will need to complete the Know Your Customer (KYC) process before you can start trading. KYC involves submitting a copy of your photo ID (such as a passport) as well as proof of address (such as a bank statement) and a selfie — make sure you have these to hand before you begin.
This process may seem inconvenient, but it is in place for good reason. KYC prevents fraudsters and criminals from laundering money or manipulating markets. All financial markets are subject to these regulations, so it is important that cryptocurrencies like Dogecoin are held to the same standards.
Step 3: Deposit Funds
Once you have successfully completed the KYC checks, you can fund your account. In the UK, investors have a wide range of options available to them, each of which has its own pros and cons. These include bank transfers, PayPal, credit and debit cards, and even cash payments sometimes.
You are unlikely to find a payment method that is not supported in the UK, but please bear in mind that the available options will vary between platforms: not everywhere supports PayPal, for example, and some vendors will have higher fees for credit cards.
Step 4: Start Trading or Buying Dogecoin
As soon as your deposit has arrived in your account, you are ready to start trading or buying Dogecoin.
If you have opted to go with a broker, this will likely be done through derivatives such as CFDs or futures, which allow you to speculate on the price of DOGE without needing to handle the underlying asset.
If you selected an exchange, then you will be able to purchase actual Dogecoins, which you can then take custody of for safekeeping. The top exchanges offer a DOGE/GBP trading pair, meaning you can purchase Dogecoin directly with your GBP balance.
There are exceptions to these general rules, though: some brokers (such as eToro) allow you to buy real DOGE tokens, and many exchanges (including Binance) give traders access to futures and options contracts too.
Step 5: Optional Steps
Once you have made your initial purchase or trade, there are often several optional steps you can take to maximise your investment. These include, but are not limited to:
Derivatives traders may want to open complementary positions to "hedge" their main Dogecoin investment. This can be done using futures contracts.
If you have purchased DOGE tokens, you may want to move them to a private wallet for better security. Trust Wallet is a top mobile wallet, while hardware wallets such as those by Ledger and Trezor are the most secure.
Buy Dogecoin in the UK today!
What is the Best Payment Method for Buying Dogecoin in the UK?
As with choosing a platform, there is no definitive "best" payment option. The method you choose to buy DOGE will depend on your needs and priorities: do you value speed, security, or low fees the most?
Thankfully, virtually every payment method you could imagine is available in the UK. PayPal and other third-party processors are commonly accepted by UK vendors, and credit card purchases are generally well supported.
Buy Dogecoin with Cash - an anonymous option, made possible via peer-to-peer exchanges
Buy Dogecoin with Credit Card - secure and fast, but commands a higher fee
Buy Dogecoin with Bank Transfer - safe, secure, and very low-cost, but can be slow
Buy Dogecoin with PayPal - not available with every platform, but very convenient
Buy Dogecoin with Bitcoin - many exchanges will allow you to buy DOGE using BTC
Please note that some UK banks, including HSBC, have made it difficult for users to make cryptocurrency purchases directly (i.e. with a credit/debit card). This problem can be solved by funding your account with a bank transfer, then making the purchase from your exchange or brokerage account.
Why Buy Dogecoin?
Dogecoin is one of the oldest cryptocurrencies around. Founded eight years ago in 2013, DOGE was intended to be a joke: an anti-capitalist meme coin created to lampoon the "gold rush" of new cryptocurrencies popping up everywhere, seeking out investors while providing no apparent utility or value.
The ironic intentions of Dogecoin's inventors, Billy Markus and Jackson Palmer, have somehow led DOGE to a market capitalisation of more than $31 billion at the time of writing, and this figure was around $88 billion at the peak of the bull market.
The latter figure made DOGE more capitalised than companies such as FedEx, Adidas, and General Motors; even now, the total Dogecoin market is worth more than banks such as Credit Suisse and Caixa Bank.
Dogecoin's irreverent attitude and open admission of valuelessness have paradoxically endowed the token with substantial value. Day-one DOGE investors have seen a return on investment (ROI) of over 40,000%, and Dogecoin simply refuses to go away.
During the 2021 bull market, Dogecoin has won over crypto newbies and veteran investors alike, from teenage TikTok fans all the way up to Tesla CEO Elon Musk. The meme coin's humorous nature, dedicated army of supporters, and low cost per unit have made it a favourite with crypto investors.
Why would investors consider buying DOGE now? There are several reasons to foresee a bright future for Dogecoin. First of all, Elon Musk, one of the world's richest men, has signalled continued support for DOGE, including working with developers and even funding a space mission using Dogecoin.
This support, including rumours that Tesla will accept Dogecoin payments in the future, indicates that Dogecoin could gain widespread adoption in the not-so-distant future. Other early indicators of adoption increasing include NBA team the Dallas Mavericks accepting Dogecoin payments. Increased adoption of cryptocurrencies has historically led to sharp increases in price as new investors pour in.
In short, Dogecoin has achieved unprecedented adoption during this bull run and looks to have established the foundations for further growth in years to come. With DOGE currently in a "dip", as shown by the chart below, it could be argued that there is no better time to invest in Dogecoin.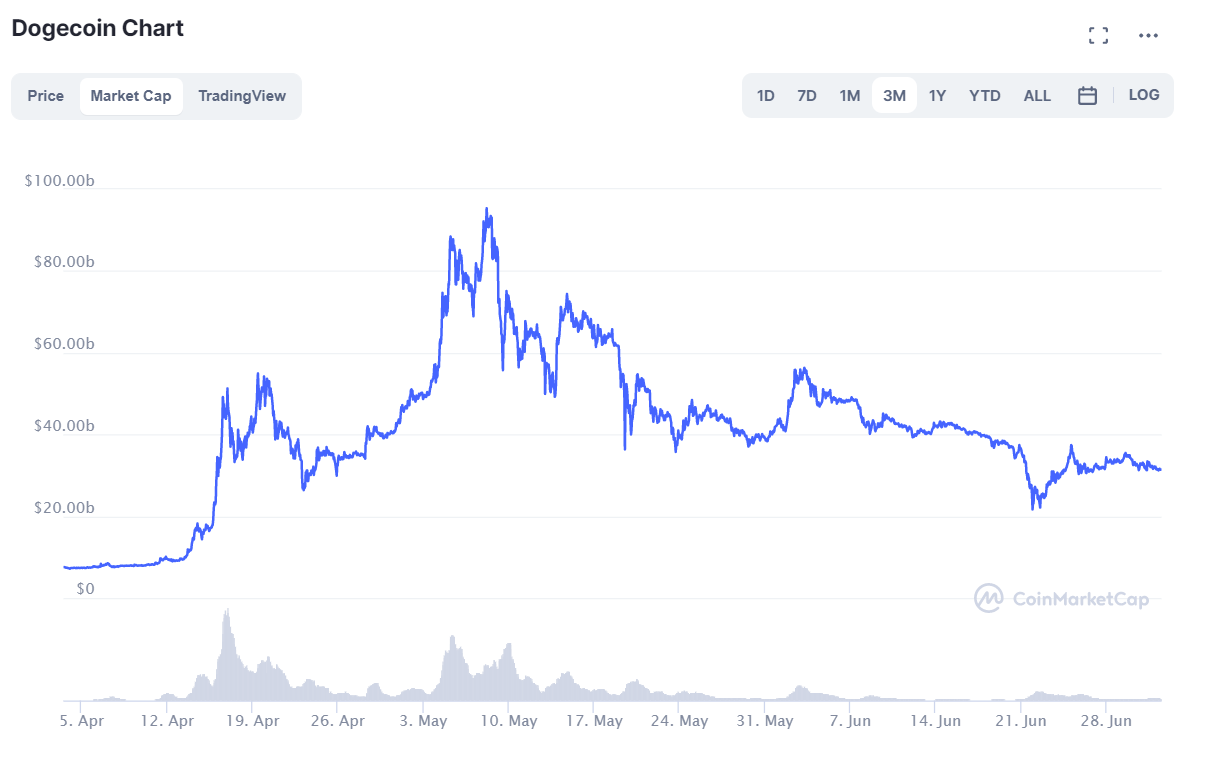 Dogecoin 3-monthly chart. Source: CoinMarketCap
Is it Legal to Buy Dogecoin in the UK?
At the time of writing, purchasing Dogecoin in the UK is completely legal. Selling DOGE may make you liable to pay capital gains tax if you turn a profit, but for purchasing alone, no reporting is required.
While it is legal to buy Dogecoin in the UK, it would be wise to always use a reputable and regulated platform to purchase DOGE tokens. This avoids any potential legal complications and associations with bad actors. It is always wise to document purchases too, so that you can prove ownership of your DOGE if necessary.
Where Can I Use Dogecoin in the UK?
As it stands, there are no major retailers or brands that accept Dogecoin payments in the UK. This means that if you want to pay for something using DOGE, you will have to find a private individual willing to provide goods or services in exchange for Dogecoin. This means that Dogecoin acts more like an investment than a currency at the moment.
Keep your eyes peeled, though. The Dallas Mavericks, an American basketball team, have announced plans to accept DOGE payments in the near future, and Tesla CEO Elon Musk has reportedly considered accepting Dogecoin payments for his firm's electric vehicles. Developments like these could certainly migrate to this side of the Atlantic as crypto adoption accelerates.
Our Recommended Best Way to Buy Dogecoin in the UK
We've gone through a lengthy review process to whittle down the extensive list of UK-based DOGE vendors. Below is our choice for the most reliable, convenient, and cost-effective way to buy Dogecoin in the UK.
Min. Deposit
$50
Exclusive promotion
Accepts customers from the USA
Offers 15 crypto coins to buy&sell including BTC, LTC, ETC, NEO and more
Trade on the world's leading social trading and investing platform
Description:
eToro offers a wide range of cryptos, such as Bitcoin, XRP and others, alongside crypto/fiat and crypto/crypto pairs. eToro users can connect with, learn from, and copy or get copied by other users.
Payment Methods
Bank Transfer, Wire Transfer
Full regulations list:
CySEC, FCA
Frequently Asked Questions
It is a subjective matter as to the investment value of the two coins. Dogecoin is the original "meme coin", however, and has a far larger market capitalisation than Shiba Inu.

Yes. Many of our recommended brokers and exchanges allow you to purchase Dogecoin using PayPal.

It is possible to lose everything with almost any form of investment. You are always risking capital with an investment; you can minimise your risks by sticking with regulated platforms.

Elon Musk is not a creator of Dogecoin, neither is he a developer. He is simply an investor and an outspoken fan of Dogecoin. While his comments may influence the price, he does not control DOGE.

That is up to you, but DOGE has certainly been a good investment for long-term holders, who have benefitted from a return on investment (ROI) in the hundreds of thousands of per cent. Always do your own research, and never invest more than you can afford to lose.