Dogecoin was released in late 2013, and its creators envisioned the project as a 'light-hearted' mimicry of Bitcoin. By early 2014, Bitcoin was commanding global attention, which spilled over to a major cryptocurrency built to celebrate an internet meme of a Japanese Shiba Inu. However, what started as a parody cryptocurrency began to receive celebrity endorsements, the most consequential support coming from Tesla's Elon Musk via a tweet.
In 2021, the DOGE price shot up more than 6,000% and if you want to buy Dogecoin in the USA, then we believe you'll find this guide indispensable.
Quick Guide to Buy Dogecoin in USA Today
1
Register on a trading platform
It is possible to buy Dogecoin from private individuals but the channel does not promise security. Instead, you could buy the token on various trading platforms available on the internet, a broker, or an exchange platform. However, you must first create an account. A typical account creation process takes a few minutes to complete and it starts with the new user supplying verifiable personal details.
Once the details pass muster, the next step is to put some money into the account for trading. To make the deposit, go to the appropriate section on the trading platform and select a preferred payment method. Please ensure that the selected payment option satisfies your personal needs. Bank transfers and debit/credit cards are supported on almost all platforms.
The process for purchasing DOGE varies depending on the platform used. If using an exchange platform, you start purchasing the token by selecting the appropriate currency type. It could be USD or any other fiat currency supported by the platform. Also, you could purchase DOGE with another cryptocurrency, such as Ethereum (ETH). If using a broker platform, you buy DOGE by selecting the appropriate currency pair, which could be USD/DOGE.
Where to Buy Dogecoin in the USA in 2021?
The United States is the cradle of the cryptocurrency ecosystem, let alone Dogecoin. As such, you have a myriad of choices regarding where to buy DOGE.
Buying Dogecoin could mean acquiring actual DOGE coins from a cryptocurrency exchange or trading Dogecoin derivatives on a cryptocurrency broker.
Now that we have the difficult part out of the way, let's mention that your choice of where to buy Dogecoin in the USA depends on your intentions.
If you intend to trade the price changes in the DOGE market, then a crypto broker is the place to open an account. A typical broker packages the DOGE price fluctuations into derivatives such as CFDs. Then, investors buy or sell the CFDs based on the price performance of the actual DOGE tokens.
On the other hand, a crypto exchange is the place to be if you intend to acquire actual DOGE tokens. Therefore, the exchange is like an online market where you take funds to give to other participants in exchange for DOGE.
However, things are not black and white in the cryptocurrency ecosystem. This is to say that broker platforms are not entirely restricted to offering brokerage services, and exchange platforms are not strictly for exchanging fiat currency for crypto.
For example, eToro is a cryptocurrency broker but enables clients to buy Dogecoin tokens. Similarly, Binance is a top cryptocurrency exchange that offers access to the Dogecoin derivatives market.
Min. Deposit
$50
Exclusive promotion
Accepts customers from the USA
Offers 15 crypto coins to buy&sell including BTC, LTC, ETC, NEO and more
Trade on the world's leading social trading and investing platform
Description:
eToro offers a wide range of cryptos, such as Bitcoin, XRP and others, alongside crypto/fiat and crypto/crypto pairs. eToro users can connect with, learn from, and copy or get copied by other users.
Payment Methods
Bank Transfer, Wire Transfer
Full regulations list:
CySEC, FCA
Min. Deposit
$1
Exclusive promotion
The world's largest cryptocurrency exchange with over 2bn daily users
Innovative trading platform offering enormous range of crypto coins
Supports over 60 methods of payment including PayPal
Description:
Binance has grown exponentially since it was founded in 2017 and is now one of, if not the biggest cryptocurrency exchanges on the market.
Payment Methods
Cryptocurrencies
Min. Deposit
$20
Exclusive promotion
Margin Trading with full legal compliance
Description:
Cex.io offers exchange of fiat currency for Bitcoin Ethereum, Tether, and 23 other cryptocurrencies, as well as Bitcoin/Ethereum trading against the USD.
Payment Methods
Credit Card, Cryptocurrencies, Debit Card, Wire Transfer, skrill
Step by Step Guide - How to Buy Dogecoin in USA
We understand how challenging it gets when you try to find your way into a new ecosystem. Unfortunately, the newbie experience in the USA's cryptoverse could be worse without some hand-holding. So, let us hold your hand and show you how to buy Dogecoin in the USA.
Step 1: Find an Appropriate Platform to Buy Dogecoin
When thinking about buying Dogecoin, or any other cryptocurrency, the first thing to do is to outline your intentions. For example, you could say you want DOGE coins to hold in a wallet for tipping on Reddit. Or, you could say you wish to play around with the price fluctuations in the Dogecoin market.
If you wish to invest for the long term, the appropriate platform would be an exchange. The platform links you up with participants who wish to give away their DOGE tokens at the prevailing market price. Their target market is often people or entities that wish to HODL or use the coins to tip their favourite online content creators.
For the latter, a broker platform would be appropriate. The platform offers access to DOGE-based derivatives for wagering. Derivatives trading suits day traders whose interest in cryptocurrency is purely regular income generation.
While it matters which platform you select, it is more important to choose one that can demonstrate adherence to relevant regulations. This is because a regulated trading platform has a legal obligation to prioritise client safety and wellbeing.
Step 2: Registration / Create a New Account
The only way to gain access to a trading platform is by creating an account. This process is often simple: you submit personal information, such as your name and address, and the platform sets up the account.
However, the platform has to verify the information first and will only activate the account if the details pass muster. To complete the verification process – or KYC process – the platform will ask for documents such as a recent utility bill or bank statements and a photo of you while holding an identification card.
You must pass the KYC process to enable proper identification. Also, the process is necessary if the platform has to operate within the law.
Step 3: Deposit Funds
Funding a trading account in the US is easy, precisely because you have a wide range of supported payment options. Some of the most popular options to pay for DOGE purchases include eWallets such as Skrill and PayPal, Bank transfers, and crypto funding channels using coins like Bitcoin.
However, each payment method has merits and demerits. As such, it is upon you to choose one that ticks the right boxes.
Step 4: Start Trading or Buying Dogecoin
Please recall that the DOGE purchasing process depends on the selected trading platform. For example, you will start trading (going short or long DOGE) when using a broker platform. On the other hand, exchange platforms generally offer spot purchasing of DOGE and deliver the coins in a wallet.
If you wish to trade only, then you don't need a crypto wallet but for long term investors, a wallet becomes a necessity.
Step 5: Optional Steps
Once you have purchased the DOGE coins, the trading platform will deposit them in the trading account's wallet. However, the storage is appropriate only if you intend to sell the coins as soon as possible. If you intend to HODL, then you better transfer the coins into a private wallet for greater control.
But, if you open a position in the derivatives market, it helps to create complementary trades for hedging.
Buy Dogecoin in the USA today!
What is the Best Payment Method for Buying Dogecoin in USA?
Buying Dogecoin in the USA is an exciting venture, precisely because of the wide variety of payment options available to you. Interestingly, each payment method has its upsides and downsides, which is why we cannot categorise them into 'best' and 'undesirable.' Some of the top payment methods are described below.
Buy Dogecoin with Cash: A safe and cost-effective payment method used by peer-to-peer exchanges and crypto ATMs.

Buy Dogecoin with Credit Card: A secure and fast legal way to buy DOGE. But using credit cards is expensive.

Buy Dogecoin with Bank Transfer: It is the most popular means to buy DOGE, but is slower than other methods.

Buy Dogecoin with PayPal: A fast and convenient payment option for US citizens.

Buy Dogecoin with Bitcoin: A seamless payment option that enables anonymous DOGE purchases on peer-to-peer platforms and decentralised exchanges.
Why Buy Dogecoin?
Dogecoin is the founding patron of the meme coin club. A meme coin is a cryptocurrency without specific utility and whose popularity is a result of online promotion by influencers.
Jackson Palmer and Billy Markus, the creators of Dogecoin, intended for the project to be "as ridiculous as possible". That's why they built it around a meme of a Japanese Shiba Inu "doge" that was a popular internet meme at around the time of release. The creators based the Dogecoin project on a Lucky Coin fork, which was itself a Litecoin fork.
However, instead of becoming the most undesirable virtual in cryptoverse, the project became serious. Its fortunes started to change precisely after the DOGE community raised $30,000 to sponsor the Jamaican bobsled team to the 2014 Winter Olympics in Russia.
As a result of the charity work, the Dogecoin community grew confident about the possibility of DOGE having real-world utility. Another positive development came when DOGE began to receive positive shoutouts on Twitter from celebrities. Some of the celebrity endorsers include Carole Baskin, an actor and Snoop Dogg.
However, Dogecoin's big break came after the Elon Musk tweet on April 2, 2019, terming Dogecoin as "pretty cool". But it was not until late 2020 and early 2021 that the 'Elon effect' caught actual momentum. Musk's tweet salvo mouthing support for DOGE galvanised millions of Dogecoin supporters.
The increased support led to DOGE prices to climb more than 200,000% from the all-time low to hit an all-time high of $0.7376 on May 8, 2021. However, one could easily argue that DOGE has had a good time and might not be an exciting virtual asset anymore. So, why should anyone risk funds by investing in the token?
First of all, Elon Musk is the biggest name supporting DOGE. In May 2021, the billionaire entrepreneur and owner of SpaceX said he would put DOGE into space, and probably land it on the moon as early as 2022. He has also played up the idea of building the Mars economy around cryptocurrency, most likely Dogecoin.
If he succeeds, Dogecoin will likely transform into a huge cryptocurrency, even bigger than Bitcoin. To get an idea of what Musk is capable of achieving when supporting DOGE, consider the upswing in the wake of his tweets in April and May.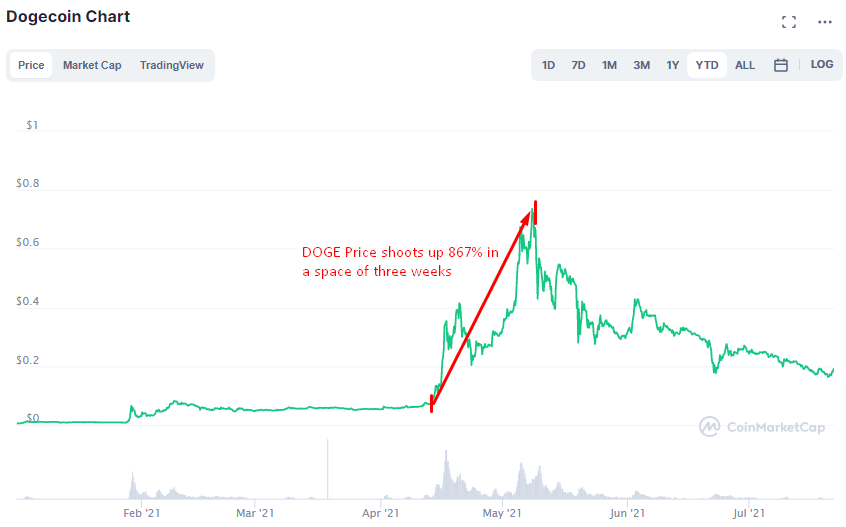 DOGE price (2021 YTD) Source: CoinMarketCap
Is it Legal to Buy Dogecoin in USA?
Crypto-focused businesses in the US are listed under the money transmitter category. It means exchange and broker platforms must obtain money transmission licenses before operating in the country. However, there isn't a specific piece of legislation that legalises the sale or ownership of virtual assets such as Dogecoin in the USA.
Nevertheless, US authorities have avoided cracking down on miners and exchanges, as in China. Instead, financial regulators have created a conducive environment for the crypto ecosystem to thrive while mulling proper regulations.
Where Can I Use Dogecoin in USA?
Dogecoin is a popular token in the US, precisely because of the support it receives from Elon Musk. No wonder, SpaceX became one of the earliest brands to announce acceptance of DOGE payments when it revealed that "DOGE-1 Mission to the Moon" would be funded in the cryptocurrency.
Additionally, Mark Cuban's Dallas Mavericks accept DOGE. In a March 6, 2021 tweet, the billionaire said his franchise had "done more than 20,000 #Dogecoin in transactions".
Other brands that accept Dogecoin include the luxury retailer The Kessler Collection, CoinFlip, a cryptocurrency ATM provider, restaurants such as STEEM, Burger Bear, and more. According to Coin ATM Radar, a majority of the 20,964 cryptocurrency ATMs in the US accept Dogecoin.
Our Recommended Best Way to Buy Dogecoin in USA
There are many platforms where you can buy DOGE in the US. We researched some of the best portals and our choice for the top platform to buy Dogecoin is given below.
Min. Deposit
$50
Exclusive promotion
Accepts customers from the USA
Offers 15 crypto coins to buy&sell including BTC, LTC, ETC, NEO and more
Trade on the world's leading social trading and investing platform
Description:
eToro offers a wide range of cryptos, such as Bitcoin, XRP and others, alongside crypto/fiat and crypto/crypto pairs. eToro users can connect with, learn from, and copy or get copied by other users.
Payment Methods
Bank Transfer, Wire Transfer
Full regulations list:
CySEC, FCA
Frequently Asked Questions
Yes. Most reputed platforms insist on identity verification as part of the KYC regulations.

Yes. You can purchase Dogecoin in USA via VISA and MasterCard credit cards.

It depends on your intentions. For example, it makes sense to leave the coins on the exchange if you intend to sell them soon. However, it is appropriate to transfer the coins to a private wallet if you intend to HODL. A private wallet offers better safety and complete control over your virtual assets.

Yes. Credit cards provide a secure channel to pay for Dogecoin, and to receive the coins almost instantly.

Yes. You should maintain records of all transactions and file taxes to avoid trouble with the tax authorities.