How to Buy Elastos | Ultimate Guide To Buy ELA
Elastos (ELA)
...
Did you hear about Elastos and are considering investing in it? Elastos is an open-source operating system powered by blockchain technology. The project's founder, Rong Chen, launched his vision in 2017 to build a new smart web that generates wealth. His objective was to create a more decentralised internet space, which gives people the right to sell digital assets that they own.
Imagine a new system where you can profit from selling your book or movie collections. In this guide, you'll learn how and where to buy Elastos (ELA).
5 Steps to Buy Elastos with eToro Now
Buying any cryptocurrency with eToro is easy, simply follow the steps below:
Sign up for free with eToro, entering your details in the required fields.

Fill out the questionnaire, this is both educational for you and eToro.

Click 'Deposit', you'll then be asked how you want to fund your account.

Choose your required payment method, follow the simple steps to link your payment.

Enter the amount you want to deposit and you're good to go!
Our Recommended Platform to Buy Elastos
While there are various processes and platforms to choose from to buy Elastos, it would be best if you invested the right amount of time in evaluating the most reliable ones. To help you in this process, we will walk you through some of the best cryptocurrency exchanges and brokers where you can buy or trade ELA. Our recommendations come highly vetted by experts.
Min. Deposit
$50
Exclusive promotion
Accepts customers from the USA
Offers 15 crypto coins to buy&sell including BTC, LTC, ETC, NEO and more
Trade on the world's leading social trading and investing platform
Description:
eToro offers a wide range of cryptos, such as Bitcoin, XRP and others, alongside crypto/fiat and crypto/crypto pairs. eToro users can connect with, learn from, and copy or get copied by other users.
Payment Methods
Bank Transfer, Wire Transfer
Full regulations list:
CySEC, FCA
Where to Buy Elastos in 2021
There are two primary options when considering an ELA purchase. You can procure the tokens from either a cryptocurrency exchange or a broker.
Exchanges allow you to purchase the actual coins and take custody of the tokens yourself. You can withdraw them into a private wallet, where you can hold them over a long period of time, waiting for them to appreciate in value.
Cryptocurrency brokers, conversely, allow you to speculate on the price movement of coins like ELA in the short term. This is achieved through derivative products such as CFDs, which means that you get exposure to the price of ELA without having to acquire and store the tokens, which can be a cumbersome process. This makes brokers the superior option for short-term speculators.
Min. Deposit
$50
Exclusive promotion
Accepts customers from the USA
Offers 15 crypto coins to buy&sell including BTC, LTC, ETC, NEO and more
Trade on the world's leading social trading and investing platform
Description:
eToro offers a wide range of cryptos, such as Bitcoin, XRP and others, alongside crypto/fiat and crypto/crypto pairs. eToro users can connect with, learn from, and copy or get copied by other users.
Payment Methods
Bank Transfer, Wire Transfer
Full regulations list:
CySEC, FCA
Min. Deposit
$20
Exclusive promotion
Margin Trading with full legal compliance
Description:
Cex.io offers exchange of fiat currency for Bitcoin Ethereum, Tether, and 23 other cryptocurrencies, as well as Bitcoin/Ethereum trading against the USD.
Payment Methods
Credit Card, Cryptocurrencies, Debit Card, Wire Transfer, skrill
Min. Deposit
$10
Exclusive promotion
The broker offers access to a trusted MetaTrader trading system
Pricing is ensured to be completely transparent, also providing accuracy and speed
Trade a Wide Variety of Assets with Leverage up to 1:500
Description:
LonghornFX is a true ECN STP broker dedicated to delivering a superior trading experience to traders no matter their level of experience. Their services are based on transparency, innovation and efficiency, ensuring an unparalleled trading experience for all.
Payment Methods
Bitcoin, Credit Card, Debit Card, Visa
LonghornFX offers high-leverage trading on a wide variety of assets. Trading with leverage carries a degree of risk which may result in losing more than your investments. Clients should practise risk management to protect themselves from losing more than they can afford when trading with leverage.
How to Buy Elastos with a Broker
You've done your research, and now you're wondering how to buy Elastos from a broker. When selecting a broker, you should be aware of their transaction fees. Fees differ for buying crypto, transferring crypto, or withdrawing crypto funds. Be cautious of which broker you choose to use, so you do not incur unnecessary fees. Security is another crucial factor to consider before selecting a broker. Popular brokers like eToro employ 2-factor authentication (2FA). 2-Factor Verification adds an extra layer of security to your account. The process requires you to sign in with your password and a security code sent to your phone.
Also, you should make sure that the broker you use is regulated. An easy way to find out that information is by looking up the company.
1. Register with the Broker
To trade Elastos with a broker you will first have to go through the registration process of the chosen platform.
To sign up for an eToro brokerage account, go to eToro.com and click the "Join Now" button. An electronic form will appear, prompting you to input personal information such as your name, email address, password, and phone number. Click "new account" once you're done. You can also log in with your Facebook or Gmail account.
If instead you want to create a brokerage account with Plus500, go to Plus500.com and select the "Start Trading Now" option. You'll be sent to a new page where you'll have to enter your email address and create a password. After that, you'll be instantly redirected to Plus500's Web Trader, where you may finish your account verification.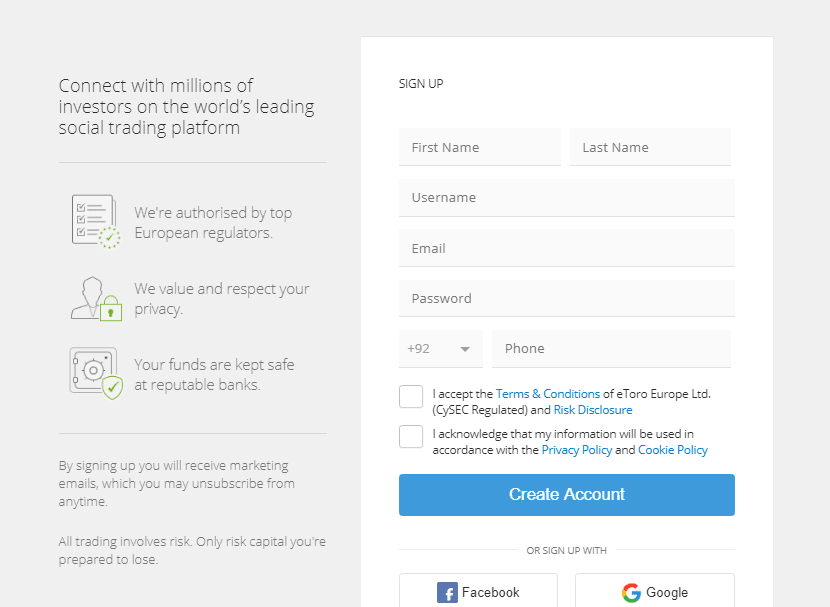 2. Verify your Identity (KYC Process)
Due to the high market capitalisation of trading across the globe, brokerages are governed by regulations. The regulations that directly impact client registration to a trading site are Anti-Money Laundering (AML) and Know Your Customer (KYC). These regulations require companies to carry out account verification procedures, including due diligence on their clients to establish their identity. This information gathered from trading sites is run across the regulator's database to find criminals—for example, fraudsters.
The verification documents usually required to confirm a client's identity include:
A passport or national ID card to prove the real name of the client
Date of birth
Recent utility bill to confirm home address and phone number
Your email address
And any other financial information such as the reason for opening a trading account, source of funds, and sometimes more.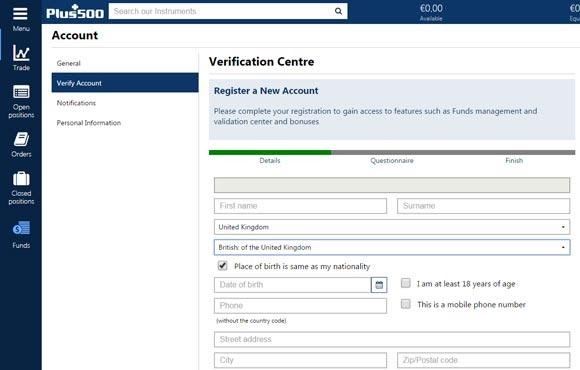 3. Deposit Funds with your Preferred Payment Method
After registering with your broker, you can select your preferred payment method from multiple options. Most brokers accept debit cards and credit cards. Also, PayPal, Neteller, and others may apply higher fees. If you haven't registered with your broker, you can simply check their site for this information. You can find information regarding payment methods and the fees they apply on the FAQs page. Remember, trading crypto is a profitable business that attracts hackers. It would be wise to buy and download a good antivirus to secure your system from external malware.
After adding funds to your account, you can go to your account portfolio or wallet to see if the funds have been reflected in your account.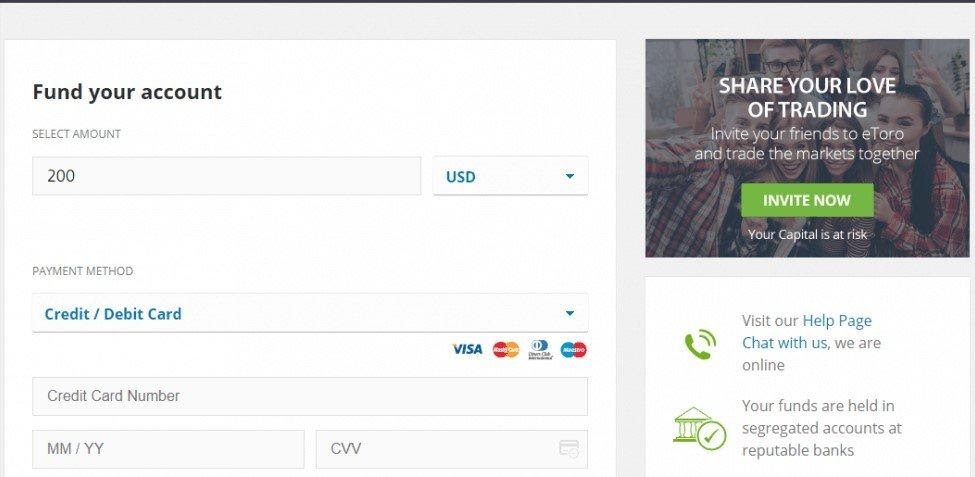 4. Open a Position to Long/Short Elastos
There are different strategies with which you can be active in the market. One of these is opening long positions without leverage, as platforms like eToro offer. Opening a long position means you intend to invest in a coin for a long time. Doing this could turn out to be a good decision, especially for newbie traders who don't understand price volatility in the market. If you want to buy Elastos tokens and hold because you believe in where this digital asset is heading, opening a long position could be a good option.
The opposite of opening a long position is sticking to a short position. Brokers like eToro offer CFDs to those that desire to use this strategy. Shorting or opening a short position means that you want to trade against the price movements of a particular coin. You don't plan to invest but to profit by buying low and selling at a peak price. Both can be great ways to buy and trade a coin; however, trading with CFDs is better suited for expert traders who understand the market more.
5. Close your Position
You, as a trader, can decide where you want to "stop-loss" or "take profit". If you feel you have maximised your position or you are content with whatever profit you've made, then, by all means, close your position. In the world of crypto and its high volatility, the market can be unstable, and it is one of those occasions where it is better to be safe than sorry.
How to Buy Elastos with an Exchange
Buying Elastos from an exchange is relatively easy. The first thing you need to do is compare the exchanges that list ELA in any cryptocurrency pairs, such as BTC, ETH, or USDT. You can trade any of these cryptocurrencies for Elastos tokens. Consider the fees and features of the platforms to decide on the one that's right for you, and then register for an account by entering your email address and creating a password.
When registering with an exchange, you may be required to provide further personal information (such as your name and contact details) and proof of ID before you can start trading. This step is required to fulfil Know Your Customer and anti-money laundering regulations.
1. Set up an Elastos Wallet
Setting up a wallet is an essential aspect of being a crypto investor or trader. It would help if you had a secure place to store your coins after buying them. A wallet ensures they are hack-proof and safe. There are two types of wallets: hardware wallets and software wallets.
Hardware wallets are sold in physical form, and resemble USB sticks. This type of wallet is the safest place to store your crypto. You can generate a private key only you know about. It is essentially hack-proof, as it has no internet connection and hackers cannot reach it.
Software wallets are straightforward and convenient. There are several trusted online wallets to choose from to store crypto. Many of them can be directly connected to exchanges to allow for a smooth transfer for crypto holders who want to trade. Most people who buy crypto through exchanges tend to store their crypto in their chosen exchange's wallet. However, you can still download a software wallet to protect your crypto assets in the event the exchange is hacked.
2. Choose and Join an Exchange that sells Elastos
There are many leading exchanges to buy Elastos (ELA). Some popular exchanges include Binance, Huobi Global, Kucoin, Bittrex, and Uniswap. You should learn their key information points before committing to anyone. Also, learn about their trading fees and commissions to select an exchange best suited for you.
Lastly, please note that registration processes might differ for each exchange. Some of them follow KYC standards, while others ask for standard information, such as your name and email address. It is best to select an exchange that is regulated. That way, you will not get scammed away from your crypto holdings.
3. Choose Your Payment Method to Buy Elastos
Top exchanges like Binance offer a number of funding options to do this. You can buy crypto through debit/credit cards, bank transfers, P2P (peer-to-peer) trading, cash balance, and third-party payments like Simplex and Banza.
For example, buying digital assets through your debit/credit cards is pretty straightforward, but it incurs a high cost per transaction. In contrast, P2P trading involves buying and selling crypto directly with other Binance users at the coin's market price. This particular payment method can be very beneficial. It is available in most countries where there may be restrictions for buying cryptocurrencies, which means your bank-issued card may not work.
Regardless of where you are from, there is a perfect payment option that will work for you. It is best to do your research for any fees associated with the transactions you want to make.
4. Place an Order to Buy ELA
Most exchanges don't allow you to purchase ELA directly with fiat money, so you will first need to convert your cash into a commonly used cryptocurrency, such as BTC, ETH, or USDT. Once you have done this, you can use funds from your wallet to trade any of the trading pairs that can be exchanged for ELA. Navigate to the exchange's trading interface and locate an ELA trading pair (for example, ELA/USDT).
From here, enter the amount of ELA you wish to purchase, and press the 'Buy' button if you are happy with the current exchange rate.
5. Safely Storing Your Elastos in a Wallet
As we mentioned earlier, most exchanges provide an exchange wallet where you can store your crypto. However, if you intend to hold your coins for long-term investments, it will be wise to save your Elastos tokens in a private cryptocurrency wallet. It can be either a hardware or a software wallet. Note that this is an optional step. Your tokens are fine and safe in your exchange wallet, apart from the counterparty risk assumed by using it. For those that wish to trade crypto with any frequency, using an external wallet might not be convenient.
Should you Buy or Trade Elastos?
You can do both! Depending on your trading goals, you alone determine what to do with your crypto. We always advise you to never invest more than you can afford to lose. Trading requires you to take advantage of the price movements of a coin in the market, while investing in crypto feels similar to buying stocks for long-term investments.
Many brokers only list top coins that have a large market cap, so buying Elastos from a broker may be difficult; however, our recommended exchanges offer Elastos for your buying and trading needs. Follow our guides on how to register to get started.
What's the Difference Between an Elastos Exchange and a Broker?
The major differences between a crypto exchange and a broker are:
Crypto exchanges offer a wide range of cryptocurrencies
Crypto brokers have lower fees and are regulated
Crypto exchanges allow for transfer and withdrawals in cryptocurrency, while crypto brokers do not
Crypto brokers only offer withdrawals in fiat currency
Crypto brokers offer short term trades with CFDs
In summary: exchanges are better suited to long term investors, whereas brokers fill the gap for those who wish to speculate in the short term without the hassle of owning the coins themselves.
Elastos: Long Vs Short Term Investment
Being an early investor can sometimes prove to be a great decision. Asides from the high returns, the satisfaction of having been a part of a process is truly gratifying. For Elastos, users have autonomy over their digital footprint. It allows for more control over your digital assets in any form. This blockchain-powered project intends to build wealth for everyone and offer equal opportunities to create value for things we do on a regular basis.
Elastos has a Circulating Supply of 19,243,820 ELA. Most coins with a limited supply tend to do well over time. With an all-time high of $93.96, there is much room for growth in the Elastos blockchain. Elastos' platform aims to provide decentralised apps (Dapps) for developers to build on the Elastos ecosystem. It also aims to pave the way for better smart contracts.
Buying and investing in a coin simply depends on if you believe in its future, while trading is betting and making a profit off-price movements. Both are appropriate in different situations, and they largely depend on the investor's preferences.
3 Tips to Buy Elastos
Make sure to read the following tips to be sure you are making the best decisions when it comes to buying Elastos.
1. Choose the Right Time and Do Your Own Research on Elastos
The general advice is to buy the dips as a good entry point. Also, once you learn more about trading, like reading candlestick charts, you will find the right time to buy a coin.
Taking time to research a coin will help you make more informed decisions. You will learn more about the project you are investing in and see the direction of the project.
2. Compare Costs to Buy Elastos
Each platform sells Elastos coins at a varying price. However, the price may vary slightly from the market price. Our recommended platforms offer advantageous prices and a high degree of security in the buying process.
3. Safety and Security when Buying Elastos
Ensure you sign up for a 2-factor authentication code to add extra layers of security to your account. Also, never share your password with anyone, and be careful with the internet connection you are using to conduct this operation.
What is the Best Payment Method for Buying Elastos
Buy Elastos with Cash - Exchange your fiat money for Bitcoin with cash, and then use your Bitcoin to buy Elastos.
Buy Elastos with Credit Card - You can buy Elastos with your Visa and MasterCard debit/credit cards. Credit cards usually apply higher fees.
Buy Elastos with a bank transfer - Many platforms allow users to pay with bank transfers - just make sure you have all the necessary identification codes and follow the procedure thoroughly.
Buy ELA with Bitcoin - This is probably the easiest way to buy Elastos. Simply exchange your Bitcoin for ELA tokens.
Buy Elastos with PayPal - Paypal has become a widely accepted payment option for many brokers and exchanges.
Other Ways to Buy Elastos
Other than the common ways to get cryptocurrency, there are also other methods that traders do not always consider. One of these is mining your own coins. This process requires specific tools that will allow your computer to solve complex equations at the base of the blockchain powering the coin. The reward for this process is obtaining some of the coins themselves. This type of system is called peer-to-peer for this reason: the verification system takes advantage of a net of users that makes the newly formed block impossible to falsify.
Another method to have access to coins is through a peer-to-peer (P2P) network. This method is quite popular because it allows a certain degree of security and avoids capital losses. In this case, the exchange just acts as a third party that ensures the escrow of the sum. After the payment is verified, the coins are released to the respective buyers.
To conclude, when investing in cryptocurrency it is always better to be well researched. Stick to exchanges that are regulated. Do not get enticed by promises of huge gains, they are usually scams. Do your own research and, finally, only invest what you can afford to lose.
Frequently Asked Questions
Unfortunately, major brokers like eToro have not yet listed Elastos.

Yes, you can. You will first have to convert your fiat currency to Bitcoin and then use an exchange platform to convert your BTC to ELA.

The Elastos blockchain applies main chain and sidechain solutions to facilitate the smart economy and a healthy decentralised application environment.

You can store your tokens in a hardware wallet or software wallet of your choosing.
Alternative Cryptocurrencies