Buy Electroneum - Mine With Your Phone!
Electroneum ETN is one of those coins which has been sitting around the top 50 for quite some time, but which this writer hasn't taken a close look at. In the several months since its $40 million ICO, Electroneum failed to stand out from the pack, but this is starting to change. What once seemed like a redundancy is starting to differentiate itself from the pack. Electroneum is proving to be one of the best cryptocurrencies for mobile. You can now mine Electroneum with just about any phone, and it's easy to use for other mobile purposes. The Electroneum team understands that mobile is the future, and that even today more people use a phone than a personal computer. This is a big benefit of Electroneum, and a means by which they're nailing decentralization. So what does Electroneum ETN have going for it, and what have Electroneum fans seen in ETN all along?
Buy Electroneum in just a few minutes
Create a free account
Set up your trading account with eToro for free with your name, an email address and telephone number
Fund your account
Choose your preferred payment method and activate the account with the minimum deposit into your account
Start trading Electroneum
Choose a cryptocurrency by clicking 'Trading Markets', set your risk limit and click 'Get Started' to start your investment strategy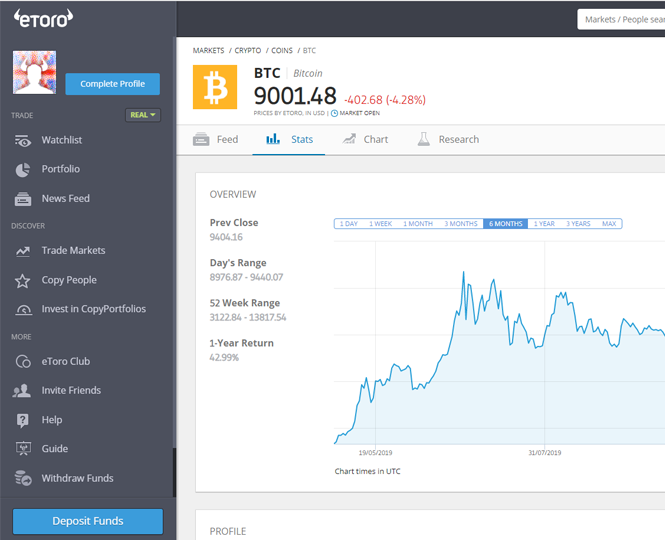 Min. Deposit
$50
Exclusive promotion
Accepts customers from the USA
Offers 15 crypto coins to buy&sell including BTC, LTC, ETC, NEO and more
Trade on the world's leading social trading and investing platform
Description:
eToro offers a wide range of cryptos, such as Bitcoin, XRP and others, alongside crypto/fiat and crypto/crypto pairs. eToro users can connect with, learn from, and copy or get copied by other users.
Payment methods
Wire Transfer, Bank Transfer
Full regulations list:
CySEC, FCA
Cryptoassets are highly volatile unregulated investment products. No EU investor protection. eToro USA LLC does not offer CFDs and makes no representation and assumes no liability as to the accuracy or completeness of the content of this publication, which has been prepared by our partner utilizing publicly available non-entity specific information about eToro. Your capital is at risk.
Min. Deposit
$1
Exclusive promotion
Trade with up to 5X leverage for spot trading
Buy cryptocurrency with your credit card via our partner
Client funds held in dedicated multi-signature cold wallets
Description:
Start Your Cryptocurrency Journey Today. Huobi Global has a variety of features that make it an ideal place to buy and sell digital asset.
Min. Deposit
-
Exclusive promotion
Supports Multiple Altcoins
Description:
KuCoin is a global cryptocurrency exchange for numerous digital assets and cryptocurrencies. Launched in September 2017, KuCoin has grown into one of the most popular crypto exchanges and already has over 5 million registered users from 200+ countries and regions. According to Alexa traffic ranking, KuCoin's monthly unique visit ranks the top 5 globally.
The Difference Between Trading and Buying
The ultimate beginner's guide to trading Electroneum
Electroneum Wants to Do Cryptocurrency…Better
To understand Electroneum, you have to understand something about cryptocurrencies in general, especially those projects which are focused on the "currency" aspect of the industry. Cryptocurrencies are a revolution in global finance for several reasons:
Cryptocurrencies are fast. You can send money anywhere in the world in less than a second if you're using the right blockchain.
Cryptocurrencies cut out the middle men. For eons we've had to use third parties like banks to make complex financial actions. These third parties took their pound of flesh and got rich doing it. Cryptocurrency cuts these vultures out of the bargain and put consumers back in the driver seat.
Cryptocurrency can be anonymous. Bitcoin is said to be anonymous, and while this is not technically true, a smart user can find ways to make it effectively private. Credit cards and other modern/mainstream payment forms are anything but private, and personal data gets lost through these channels every day (Target, Equifax, etc.).
Cryptocurrency is deflationary. Fiat currency tends to lose value because central banks print so much of it. Meanwhile, many cryptocurrencies are essentially deflationary. Coins are lost or burned, holders take them out of circulation long term, and dramatic increases in value have the same effect as removing coins from the circulating supply (because supply and demand!)
Cryptocurrency is decentralized. No one owns Bitcoin. Control of the system is distributed to miners and users around the world. No government could shut it down. It's a new paradigm.
Cryptocurrency is useful. It's easier than ever to spend your crypto just like regular money. The more this becomes the case, the greater cryptocurrency's chances of taking over the world financial system.
So what does all of this have to do with Electroneum? Well, Electroneum ETN has its hands in all of these roles. You see, most cryptocurrencies don't do all of these things well. Bitcoin isn't as fast as it once was, and it's easy to argue that it's no longer decentralized because just a few people own more than 50% of the mining power worldwide. Zcash might have an innovative privacy system, but it's difficult for the average person to use as money. Electroneum understands that to be the best, a cryptocurrency must nail all 6 of these criteria, and they're setting out to do just that. Here's how they are performing at present.
Electroneum's Performance as a All-Purpose Cryptocurrency
So let's look at how Electroneum does in each of the above criteria, starting with their weakest attribute: speed.
Electroneum only performs about 15 transactions per second, putting it down in Bitcoin and Ethereum territory. There are options to scale in the future, and ways to store transactions as to be more efficient, but this isn't Electroneum's strongest suit. Fortunately, it does better in other areas.
Electroneum is perfectly adequate to transfer value, without using centralized services like Wells Fargo or VISA. The system has proved its mettle for nearly half a year now, and its steady stream of new investors and users proves its worth.
Electroneum is a fork of Monero, which is to many people the ultimate privacy coin. Electroneum is trying to be so much more than Monero, but they benefit greatly from its top notch code base as it tries to extent cryptocurrency buying power to all, without having to worry about prying eyes of hackers and the powers that be.
Electroneum has gained a great deal of value since its ICO. Early on, Electroneum ETN sold for less than one cent apiece (max supply, 21 billion). Today that number has risen more than 500%, and at once time was up over 2000%! Electroneum is a mineable currency, meaning that coins enter and exit the system much like they do with Bitcoin, meaning that even as mining progresses, the total supply is not going to grow very fast and may even go down at times. In any case, the Electroneum price is likely to rise.
Electroneum is highly decentralized – one of its greatest assets! Anyone can now mine Electroneum on their phone, something you could never do with Bitcoin. This means that anyone can get passive income from Electroneum, simply by running a simple all on their phone. This is one of Electroneum's biggest selling points, and something you should definitely try if you want free money and are interested in the future of this massively decentralized coin.
Electroneum is increasingly useful as money for general purposes. As clever users find new ways to spend it and retailers decide to adopt it as a payment form, you won't have trouble spending your Electroneum in the real world.
As you can see, Electroneum isn't trying to do anything new. They're just trying to do the best aspects of cryptocurrency better than the competition. We're impressed with the Electroneum team and the awesome job they did with the mobile mining software. This latter feat has brought a great deal of new attention to Electroneum, and more than 50,000 people are mining it today. You can download the miner and go to town if you want, or you can invest by buying Electroneum from an exchange or brokerage option. We'll cover both options below so you can get involved with this exciting cryptocurrency.
How to Buy Electroneum ETN
If you're ready to get some Electroneum ETN of your very own, there are a number of options available to you. You could mine, of course, but this wouldn't result in a princely sum of ETN very quickly. If you want to invest, you're better off buying in bulk, especially while the Electroneum price is so low. In this effort, we'll explore options for buying Electroneum: Cryptopia. Cryptopia will get you a marginally better price. But first, we've got to find an Electroneum wallet so you can safely store your new ETN. Starting your own Electroneum wallet has a ton of steps, so bear with us. It's actually not that hard and you'll be done in less than 5 minutes. Start on the Electroneum.com homepage.
Input the requested information or sign up with your Facebook account.
Check your email and click the link.
You will de that your device is authorized on the next page. Click OK.
Add your mobile number. This will help you recover your account if necessary and make it more secure.
Input a secondary email that can be used to recover your Electroneum wallet just in case you should ever get locked out. You'll have another email and another link to click. Click "Confirm" on the following screen.
You thought you were done, but you're not. Now create a 5-digit PIN (THAT YOU CAN REMEMBER!!) and type it in twice. This will make your account even more secure and will be one of the pieces of information you supply in order to log in to your wallet every time you use it.
Finally done. Here's your wallet. The most important thing to notice is ("Your Address") at the bottom right of the screen. You're going to need this address to send your new Electroneum ETN once it's purchased.
How to Buy Electroneum on Cryptopia
Go to your Cryptopia account and click on the Bitcoin symbol in the upper right hand corner. This will lead you to a screen with many wallets. Type "Bitcoin" into the search bar and you will see the following screen. Send Bitcoin to this address, from an exchange like 
Coinbase
 where you bought it.
Now click on "Exchange". This will take you to a trading screen like the one you see below. Type "Electroneum" into the search field above the long list of coins traded on this exchange. Click "ETN" when all the other coin options disappear. Now look at the "Buy ETN" menu you see at the bottom of the screen.
Start by inputting the price. You can take the market price from the upper right hand corner where it's displayed by "ETN". If you want to specify a lower price, your order won't be filled until (and if) the ETN price falls to your desired price. If you choose the current market price, you should be able to fill your order in a few seconds. Now specify how many ETN you want to buy right now. Below you'll see your total expense (denominated in Bitcoin) and the fee charged for this exchange. Now all you have to do is click "Buy ETN" and your new ETN coins will be sent to your ETN wallet where we just were to receive your Bitcoin. Go back there now. Click "Withdraw" beside the Electroneum (ETN) wallet. Go back to your Electroneum wallet we had you made earlier in this guide. Copy the address there and paste it into the required line on the Cryptopia Electroneum wallet which currently holds your ETN. When you're ready, send it away and it should arrive in your Electroneum wallet in just a couple of minutes. Congrats! You're an ETN investor.
Final Thoughts on Electroneum ETN
Electroneum may not be reinventing the wheel, but they do stand a chance of improving cryptocurrency for the whole world. Solving many of the problems of major networks like Bitcoin and Litecoin, Electroneum excels in decentralization and privacy. The team is hard at work to turn Electroneum into the new standard for money-focused crypto, and we think they stand a chance of achieving their goals!
Buy Now
To buy cryptocurrency, you must create a wallet for yourself to hold the tokens. Trading does not require this.
Ownership:
If you wish to support the ethos of the cryptocurrency, buying is better. If you are looking to profit on investment, trading offers more options.
Different Goals:
Trading through a CFD is much more likely to provide more regulation to protect investment. Buying does typically offer this added security.
Regulation: