How To Buy EOS | Ultimate Guide To Buy EOS
EOS (EOS)
...
EOS is a decentralised blockchain-based platform that has been developed by Block.one to facilitate developers to embrace blockchain and write decentralised applications referred to as dApps. It delivers better scalability and security compared to the competing blockchains, and the team is committed to making it much more flexible, versatile, and enterprise compliant in the long run. The white paper of EOS was written by Brendan Blumer and Daniel Larimer, both of whom are familiar with business and software verticals.
The EOS team claims that the blockchain is capable of accommodating the requirements of thousands of dApps on its platforms even if there are a large number of people using those apps. This has been made possible through an innovative technique called parallel execution which delivers more efficiency. EOS blockchain has a native token that is also denoted by the initials of EOS. At the time of writing, EOS was trading around the mark of $2.60 with a market capitalisation of more than $2.4 billion.
5 Steps to Buy EOS with eToro Now
Buying any cryptocurrency with eToro is easy, simply follow the steps below:
Sign up for free with eToro, entering your details in the required fields.

Fill out the questionnaire, this is both educational for you and eToro.

Click 'Deposit', you'll then be asked how you want to fund your account.

Choose your required payment method, follow the simple steps to link your payment.

Enter the amount you want to deposit and you're good to go!
Our Recommended Platform to Buy EOS
If you are on this help page and simply want to see our top cryptocurrency exchange and trading platform recommendations, you may already know about the basics of cryptocurrency trading. However, those folks who want to get into EOS trading and haven't had any prior experience should keep reading this guide to develop a good sense of the cryptocurrency market.
Users who are already aware of the intricacies of the market can view our diligently reviewed and chosen trading platforms and exchanges after evaluating multiple factors.
Min. Deposit
$50
Exclusive promotion
Accepts customers from the USA
Offers 15 crypto coins to buy&sell including BTC, LTC, ETC, NEO and more
Trade on the world's leading social trading and investing platform
Description:
eToro offers a wide range of cryptos, such as Bitcoin, XRP and others, alongside crypto/fiat and crypto/crypto pairs. eToro users can connect with, learn from, and copy or get copied by other users.
Payment Methods
Bank Transfer, Wire Transfer
Full regulations list:
CySEC, FCA
Where to Buy EOS in 2021
If you desire to purchase EOS, you have to bear in mind that the only way to do so isn't to buy the tokens from the exchange. There are two major ways through which you can trade cryptocurrencies, including EOS tokens. The first method is to actually purchase EOS coins and own them. You will reserve the right to sell, trade, and hold them as you wish. The second method is to trade EOS tokens without owning them. In order to do that, you will need to buy financial instruments like Contract for Differences (CFDs) for EOS, which allow you to speculate on the price and make money.
Now that you know that there are two ways to invest, it is time to understand which approach is the right fit for you. If you believe in the EOS project or want to invest in the coin for long-term, it is better to use the first approach and buy EOS tokens through a cryptocurrency exchange. The exchange will let you purchase EOS tokens through a popular coin such as Ethereum or Bitcoin. You will also need a software or a cold wallet to store your tokens in a safe manner. Once you have reached the point where you believe that you need to sell the EOS coins, you can do so with ease.
On the other hand, if your investment strategy is all about short-term gains, then the second approach of trading through financial instruments is a better option. For that, trading platforms and brokerage websites are suitable platforms. Since you don't own the currency tokens, you don't need to deal with their network transaction fee as well as the hassle of getting a crypto wallet. The financial instruments such as CFDs are easy to buy or sell quickly, and it can be done more economically.
Regardless of the investment approach you take, the responsibility of managing your risk lies on you. Ensure that you are only spending an amount, the loss of which won't get you into serious financial difficulties. Cryptocurrency markets are highly volatile, and while they are conducive for earning quick profits through sudden surges, price crashes can also sink your capital. Ensure that you are investing in multiple tokens to diversify your portfolio and minimise your risk.
Min. Deposit
$50
Exclusive promotion
Accepts customers from the USA
Offers 15 crypto coins to buy&sell including BTC, LTC, ETC, NEO and more
Trade on the world's leading social trading and investing platform
Description:
eToro offers a wide range of cryptos, such as Bitcoin, XRP and others, alongside crypto/fiat and crypto/crypto pairs. eToro users can connect with, learn from, and copy or get copied by other users.
Payment Methods
Bank Transfer, Wire Transfer
Full regulations list:
CySEC, FCA
Min. Deposit
$20
Exclusive promotion
Margin Trading with full legal compliance
Description:
Cex.io offers exchange of fiat currency for Bitcoin Ethereum, Tether, and 23 other cryptocurrencies, as well as Bitcoin/Ethereum trading against the USD.
Payment Methods
Credit Card, Cryptocurrencies, Debit Card, Wire Transfer, skrill
Min. Deposit
$10
Exclusive promotion
The broker offers access to a trusted MetaTrader trading system
Pricing is ensured to be completely transparent, also providing accuracy and speed
Trade a Wide Variety of Assets with Leverage up to 1:500
Description:
LonghornFX is a true ECN STP broker dedicated to delivering a superior trading experience to traders no matter their level of experience. Their services are based on transparency, innovation and efficiency, ensuring an unparalleled trading experience for all.
Payment Methods
Bitcoin, Credit Card, Debit Card, Visa
LonghornFX offers high-leverage trading on a wide variety of assets. Trading with leverage carries a degree of risk which may result in losing more than your investments. Clients should practise risk management to protect themselves from losing more than they can afford when trading with leverage.
How to Buy EOS With a Broker
You can't just go and sign up on any broker's website. If you want to have a pleasant trading experience, you need to select your brokerage after evaluating multiple aspects of its service. The top consideration should be whether it is regulated or not and adheres to regional laws. Then comes the reputation part which you can find out by checking out online reviews. You also need to consider service features such as the convenience of trading, transactional expenses, client support, and data analytics.
1. Register With the Broker
Signing up is the easiest part of the entire process. All of the top brokerage services including Plus500 and eToro, simply ask for basic personal information like your email address, name, and a password. Remember, you should have different passwords for different accounts and use a combination of special characters, digits, and upper, and lowercase letters. Some brokers will let you make an account with them using your Google or Facebook profile.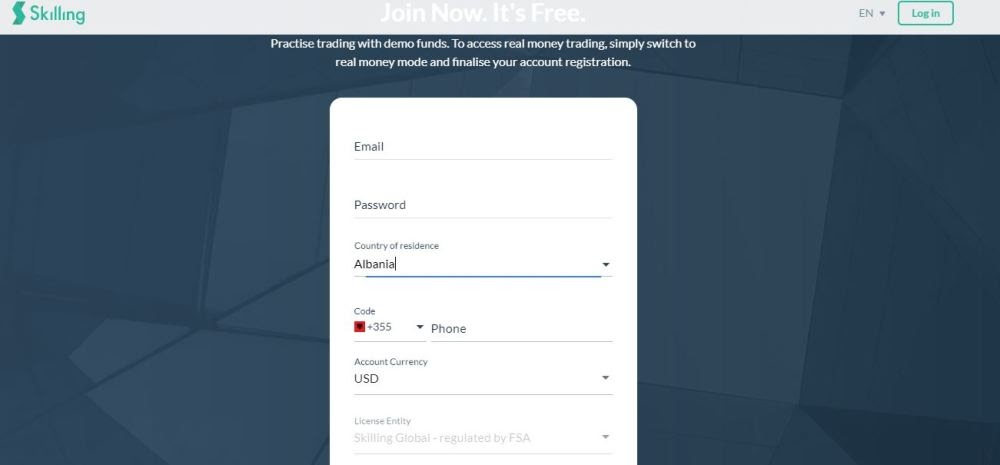 2. Verify Your Identity (KYC Process)
When you sign up at regulated brokers, you have to go through a process of verifying your identity. This is mandatory since broker services have to abide by Anti-Money Laundering (AML) and Know Your Customer (KYC) regulations to ensure the safety of their users and funds. Although it may not seem that user-friendly, it is for your benefit since identity verification prevents illegal activity, money laundering, tax avoidance, and tax fraud.
You will need to provide a valid identity document which can be anything from your driver's permit to evidence of income. The process may take up to 30 minutes.
3. Deposit Funds With Your Preferred Payment Method
If you are going with any of the top trading platforms such as eToro, they offer hundreds of payment modes for your convenience. However, before selecting a payment method on impulse, you need to check out the fee structure for that particular payment mode. Ensure that the deposit, withdrawal, and other expenses aren't too high or otherwise these charges will decrease your profit. You also need to take convenience and speed of transaction into consideration. For instance, wire transfers are affordable, but they can be slow as compared to credit cards.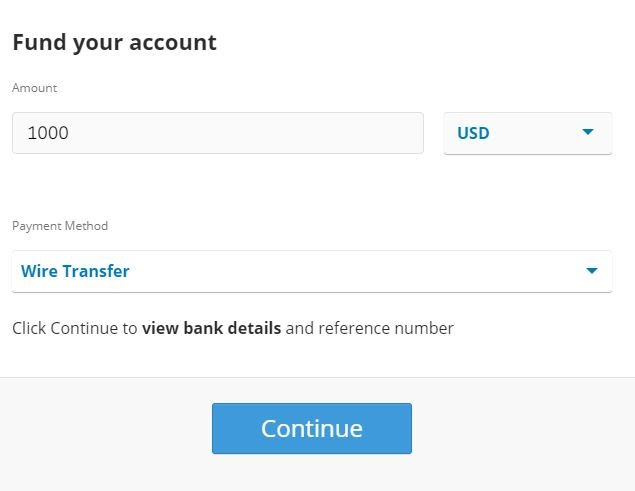 You should also start with the minimum deposit before you invest in EOS. The minimum amount required is usually up to $200 to $500 depending on the brokerage you've picked. Don't deposit a lot of money until you have become expert enough to handle thousands of dollars of investment.
4. Open a Position to Long/Short EOS
Before you trade, you need to understand what short and long positions stand for. Short positions are opened by bears who believe that the price of EOS will go down in the coming weeks while long positions are opened by investors called bulls who believe otherwise - i.e. the price will witness a hike. You can make money by opening both positions depending on what your investment strategy is.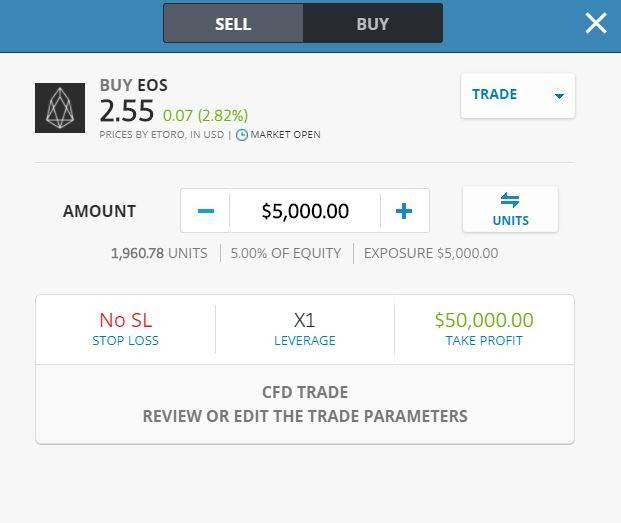 Once you understand the difference between short and long positions, you will be in a much better position to determine whether you want to open a short or long position for EOS trading. Many trading platforms such as eToro offer risk management tools including Stop Loss and Take Profit features which can help you minimise your risk associated with the investment.
5. Close Your Position
Implementing Stop Loss or Take Profit measures doesn't mean that you have given up your control on the trade. These features are there to act as a safeguard and protect your capital according to your own defined limits. If you believe that your open trade has earned enough profit or you have taken enough loss and keeping the position open will be riskier, then you can close your position at any time. You are free to override the Stop Loss and Take Profit features.
How to Buy EOS With an Exchange
If you are one of those traders or investors who believe in the EOS development project or think that the price of the EOS token will continue to improve over the course of next few months, then buying EOS tokens and owning them through a cryptocurrency exchange is a better fit for you. However, you can't just choose any exchange you want, and you will have to weigh the pros and cons of each to find out which platform serves your needs the best. Features to look for include exceptional reputation, regulatory status, ease-of-use, client support, and affordable transactions. Note that the exchanges that don't follow regulatory compliance may appear to be more tempting, but they also pose a greater risk to your investment.
1. Set up an EOS Wallet
When new investors hear about storing their EOS or other tokens in a crypto wallet, they usually imagine a complex and technical process. However, it has become increasingly easy and straightforward to use your wallet to store your funds. Depending on your investment strategy and security requirements, you can choose any of the following EOS wallets:
Exchange/Web Wallets – Browser-based wallets, extensions, and the wallets that come with the trading platform account are referred to as web wallets since they are accessible online.

Software Wallets – These are software applications for your desktop and mobile devices that can be installed to store EOS tokens. These apps bring a lot of value-added features and offer reasonable security for your coins.

Hardware Wallets – When your top priority is security, there is no better option than a cold hardware wallet. They include dedicated hardware to keep your funds safe and have no network connectivity to avoid any vulnerabilities.
2. Choose and Join an Exchange That Sells EOS
Since EOS is one of the most popular altcoins in the cryptocurrency sphere, it is generally available on all exchanges, including the top ones like Binance, Coinbase, and CEX.io. But before you select any exchange, assess them for their advantages and disadvantages so you can decide which exchange is more adequate for your use case. For instance, many exchanges require minimal information, while some will verify your identity. It is a better idea to rely on an exchange that maintains regulatory compliance for security reasons.
3. Choose Your Payment Methods to Buy EOS
Once you have signed up on the exchange, you need to evaluate all the payment modes they offer. Remember that each payment method has its pros and cons, and you will also need to manage your transactional expenses to maximise profit. For example, a credit card is a convenient mode of payment but is also a bit costly. Similarly, wire transfer is economical, but money can take days to show up in your account.
To facilitate trading, some exchanges also enable you to link your bank account with the exchange's account so that you can have your conventional currency always accessible to purchase EOS tokens.
4. Place an Order to Buy EOS
On many exchanges, you won't be able to buy EOS directly, and you will first need to acquire a popular token such as Ethereum or Bitcoin. And then you can exchange it for an altcoin such as EOS. A few exchanges may sell EOS directly, but the cost of the transaction could be quite high. To place your purchase order, select the fiat currency you want to use to pay for the investment, and it will show you how many EOS coins you can get after adjusting for the exchange rate. Add the amount and send your purchase request through. It will take a few minutes for coins to show up in your account.
If the 2FA option is enabled on your account, then you will receive a one-time password (OTP) which you will need to put in before your transaction is processed.
5. Safely Storing Your EOS in a Wallet
If you are not going for a long-term EOS investment, it is perfectly okay to hold your coins in the exchange wallet. This way, you won't have to worry about safe storage and withdrawal charges. However, if you want to hold your EOS coins for a longer period (weeks or months), it is a better idea to transfer your EOS currency to a dedicated wallet. In order to do that, you will have to enter the public key prior to the EOS coins being transferred. Once again, if the 2FA option is enabled, you will need to enter the OTP for verification of the transaction.
Should You Buy or Trade EOS?
It is a good idea to buy EOS for those investors who believe in the project or think that the price of the token will continue to increase in the coming months. But for those investors who just want to use the market volatility and unpredictability to their advantage, trading EOS through financial instruments like CFDs is a much better idea. This way, you won't need to hold or store your coins.
What's the Difference Between an EOS Exchange and a Broker?
An EOS exchange is a digital service that allows investors to purchase less popular altcoins or cryptocurrencies such as EOS against highly popular tokens like Bitcoin and Ethereum. That is why these services are called cryptocurrency exchange. For a long term investment approach, you should rely on an exchange as they sell the EOS token for which you will reserve the right to own, transfer, trade, and store.
On the other hand, if you don't want to hold the token for a long duration but just want to exploit the market volatility to earn profits, a broker is a better option for you. They don't offer coins for purchase; instead, they allow you to bet on the price of these tokens through financial instruments like CFDs. These remove the hurdle of transaction costs and storing coins securely.
Long Vs Short Term Investment
A long-term investment is made by those investors who believe in the EOS project or think that the price of the token will continue to surge in the long run. They are in it for the long haul and are usually patient investors with a great temperament. For such investors, cryptocurrency exchanges are the right choice.
The short term investment is made by those traders who want to use the unpredictability of the EOS token price to their advantage and earn quick profits. They rely on temporary surges and crashes to make their move and are generally profit-driven. For these types of investors, brokers and trading platforms are a better fit since they offer financial instruments of cryptocurrencies.
The Pros and Cons of Buying EOS
Pros
Design: The design of EOS includes inbuilt functionalities that make it easy for developers to work with. This means that updates and improvements are inevitable.
Transaction Speed: The speed of the EOS network is one of its main appeals. Due to its processing technology, transaction validation speed is thought to be in the millions per second.
Voting System: The tokenised governance model means that anyone who has an EOS token can be eligible to take part in the vote that determines how the chain's governance works. In short, the more tokens you hold, the more stake you have.
Marketing: Finally, it was the stunning early success of EOS fundraising that makes it such an eye-catching prospect. Before EOS even launched in 2018, it had raised over $4 billion through an ICO (Initial Coin Offering) which gave investors tokens commensurate to the investment.
Cons
Decentralisation: With just 21 block producers, you could not really claim that it is completely decentralised in the way that other blockchain currencies are. Compared to Ethereum, for example, it is hardly decentralised at all.
Competitors: EOS also has several similar competing cryptocurrencies which – although they are not necessarily offering exactly the same thing as EOS – could be seen as a long-term threat. Apart from the aforementioned Ethereum, there are cryptocurrencies like Golem (GNT), Elastos (ELA) and NEO (NEO) to consider.
What Are the Fees Involved in Buying EOS?
When you buy EOS using a fiat currency, there may be multiple charges from your bank, the exchange/broker and from the blockchain network itself to consider. We've listed some of the core fee types that you're likely to run into when buying EOS.
Transaction fees: Literally the fees you are charged per transaction. This may be fixed or flexible, depending on the volume of the purchase and the exchange or broker you use.
Deposit fees: This is a percentage of the total amount deducted as a processing fee when you first deposit money into an exchange or brokerage.
Withdrawal fees: If you want to withdraw your EOS, you can expect to be charged for the privilege. These fees are mainly prevalent in the world of exchanges.
Spreads and commissions: A spread is the difference between the buying price and the selling price that a trading platform uses to make their money. It's essentially their own version of the transaction fee baked into every trade. Commissions are a rare fee but are normally for bespoke brokerages to put a percentage amount on top of the price of EOS – paying them for servicing you as a client.
3 Tips to Buy EOS
If you have been reading to this point, you have developed a basic understanding of how you can invest in EOS and other tokens. We are sharing the three most important tips of crypto trading that you should never ignore.
Choose the Right Time and Do Your Own Research
Many new investors end up buying at a high price and ultimately lose money on their trades. It is important that you choose your buying and selling moments with precision and you can only do so if you researched the coins, gone through all of our guidance, and have kept an eye on the news related to the coin.
Comparing Costs to Buy EOS
New investors also underestimate the impact of transactional expenses, which can rack up and slash down your profit margin. Choose your payment method and withdrawal times wisely so you can minimise the transaction expenses and maximise your profit.
Safety and Security
You need to be aware and take measures for ensuring the safety of your crypto assets as an investor. Ensure that you have enabled two-factor authentication, using different and strong passwords, and enabled passphrase for your wallet.
What Is the Best Payment Method for Buying EOS?
Buy EOS with Cash – First, you are required to buy Bitcoin with Cash through an ATM and then trade it for EOS. It is not a convenient method for most users.
Buy EOS with Credit/Debit Card – One of the most popular payment modes to buy EOS, however, a bit more expensive than other payment methods.
Buy EOS with Bank Transfer – User-friendly and decently priced in terms of expense, but relatively slow.
Buy EOS with Bitcoin – Just trade your Bitcoin for EOS.
Buy EOS with PayPal – Very quick and cost-efficient but isn't available everywhere.
Other Ways to Buy EOS
The ways we have discussed above are some of the most popular, affordable, and convenient methods to buy EOS tokens. There are also some lesser-known methods to purchase EOS which you can utilise if you want.
Peer-to-Peer (P2P) Exchanges – These are websites or platforms that act as an intermediary between crypto buyers and sellers. You can choose your buying terms here and your preferred payment method. There are hundreds, even thousands, of sellers, so the likelihood of finding a right match is high. P2P exchanges are more affordable and versatile.

Since EOS tokens have been pre-mined, you can't get them through a mining process.
We are committed to providing the best and latest information to our users about cryptocurrencies and how to buy and trade those currencies. This is why we will continue to update this guide as more and more information, updates, news, developments, and reviews come in related to EOS.
Frequently Asked Questions
We have recommended many exchanges and trading platforms where you can purchase EOS without paying any commission. However, keep in mind that there might be other charges.

When you purchase EOS, you own the token so you can sell, trade, or hold it as per your wish. This is usually done by long-term investors. But trading EOS, you speculate on the price of the token to make quick profits through financial instruments.

It is a call that only you can make. Read all of our guidance material and keep an eye on the news and price movements to find the right moment to enter.

Once again, this is a decision that you will have to make on your own. Take into account different factors like regulatory compliance, reputation, fee structure, transaction cost, customer support and more to find the right exchange for your investment.
Alternative Cryptocurrencies