Litecoin, often referred to as digital silver, is the largest global 'Scrypt' based network and has been operating uninterrupted since 2011.
As one of the more established coins, Litecoin aims to be a P2P cashless currency for the world and is seen as an innovator for developing new tech for transaction networks: such as the Litecoin Network for instant global settlement and atomic swaps.
Buying Litecoin directly with PayPal is not really possible right now. Generally you will have to go through a broker or exchange to secure some LTC.
PayPal does however offer some advantages over other payment methods.
Buy Litecoin with PayPal on eToro
eToro is one of the first cryptocurrency providers that allow you to buy using many payment methods as well as other services. The actual process is very simple as well and one of the reasons we do recommend eToro for both beginners and experts.
Step 1: Registration
To get started, you'll need to register with eToro. It is free to sign up and you don't need to deposit right away, which means you can get used to the platform before going live.
Step 2: Deposit
Once you're happy with the platform and ready to buy for real, it is time to deposit some money into your account. Click the deposit button in the bottom left, then choose PayPal. Enter the amount you want to deposit, we'd recommend starting low before adding extra over time.
Step 3: Start Trading
Now your account is live and ready to go, the process is like any other CFD provider, you will need to search for the coin you want to buy, be it bitcoin, ethereum or whatever your preferred choice is. Hit the 'Buy' button and then 'Trade', make sure you understand your risk parameters before you jump in.
Other Methods of Buying Litecoin with PayPal
Before Buying Litecoin or other digital currencies with PayPal, you will first have to understand the type of investor you are. Do you want to take possession of your LTC and store it in a hardware wallet for the long term?
Or are you simply content to gain exposure to Litecoin price movements, quickly and easily without the hassle of owning the coins?
If you are the former, you will need to find an exchange or P2P marketplace that will allow you to deposit funds using PayPal. Unfortunately, PayPal is not widely accepted by exchanges. The reason for this is that PayPal transactions are reversible, while blockchain transactions are not.
Brokers typically offer PayPal as a payment method, so are a good alternative to exchanges. This is because broker transactions are not directly on the blockchain so they are not limited by block confirmations. Brokers typically use CFDs rather than the actual asset.
A contract for difference (CFD) is a type of contract that offers greater flexibility and fewer fees for active traders than crypto exchanges can offer.
If you can't find an exchange or broker that accepts PayPal and lists LTC, you might like to buy another coin first like Bitcoin and trade your Bitcoins for Litecoin.
Full Tutorial: Buy Litecoin With Paypal on eToro
There are only a couple of formalized ways to directly buy Litecoin with Paypal. We are aware of some other...shadier...alternatives, but these are somewhat difficult and fraught with perils, so we'll limit ourselves to the best one.
eToro is a well regulated CFD trading broker based in the UK, which is now available in more than 60 countries around the world (recently including, significantly, the United States of America). With CFDs you don't buy Litecoin in the traditional sense. Instead, you pay the current market price of Litecoin, and this money is locked up in a contract. When the contract expires, if Litecoin is worth more than it was when you initiated the contract, you'll get your money back plus the associated profits. Losses are incurred the same way, so this isn't a get rich quick scheme. You'll have to do your due diligence when making trading decisions on eToro, but they're the same as those you would have to make with conventional ownership investment. eToro just cuts out the hazards of ownership. Here are a few other excellent perks of the eToro platform.
eToro is the easiest platform to buy Litecoin with Paypal
Competitive commissions
Instantaneous trading & verification
Up to $500 deposits at one time ($5000 per month)
CySEC & FCA regulated
Perhaps the easiest user interface in the game
You won't need a wallet, addresses, private keys, etc.
Pristine reputation – 6 million users and growing!
Step 1: Open Account With eToro
Sign up by providing the simple personal information requested by eToro. Nobody likes giving personal ID online, but eToro needs it because of their regulatory requirements. They have to prevent fraud and money laundering, so knowing a bit about their customers is essential.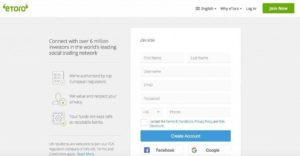 Step 2: Deposit funds With Paypal
Choose Paypal as your Payment method and decide how much you want to deposit. $200 is the minimum for first deposit and $500 is the max.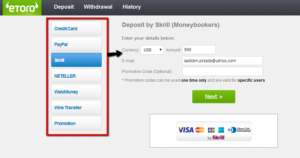 Step 3: Buy Litecoin!
Navigate to the Crypto trading page and choose Litecoin as your currency. The trading interface you see below could not be more simple. Quickly choose how much you wish to buy, then decide if you want to use leverage to get more Litecoin access with less money. Leverage opens you up to the possibility of greater profits and losses, so take care when using it. Early traders should consider not using leverage until they're comfortable with the platform.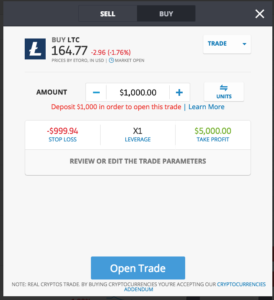 Buy Litecoin With Paypal Directly From a Seller
As we've already stated, most places that sell Litecoin do not accept Paypal. This eliminates traditional exchanges like Binance, and even P2P options like Localbitcoins. However, the P2P option is still available, though you may have to do a little bit of extra legwork.
Litecoin used to be available on eBay, though the selling of digital currencies on the platform has since been banned. This leaves buying from sellers in the physical world. You can meet Litecoin owners all kinds of places, like online forums and local advertising. You can transact directly by sending them the money via Paypal and getting them to send the Litecoin to your Litecoin address. While this method is normally considered risky (especially if you're meeting in person), the reason we list it here is because Paypal makes it easy to get your money back if there's any funny business in this trade. Always trust your gut and work with honest people, but should someone scam you, just get Paypal to get.
Buying Litecoin With Paypal: Is it Safe?
Paypal is a great option for buyers, because you can report fraud and scams to Paypal, and they are very likely to get your money back. However, this conversely makes Paypal a sketchy payment option for Litecoin sellers, because buyers could always claim that they didn't receive their funds, and Paypal would be likely to take their side. We recommend only using Paypal through trusted platforms like eToro, if you can possibly help it. However, if you find a different exchange, or want to trade with an individual, Paypal may still be a solid option.
Min. Deposit
$50
Exclusive promotion
Accepts customers from the USA
Offers 15 crypto coins to buy&sell including BTC, LTC, ETC, NEO and more
Trade on the world's leading social trading and investing platform
Description:
eToro offers a wide range of cryptos, such as Bitcoin, XRP and others, alongside crypto/fiat and crypto/crypto pairs. eToro users can connect with, learn from, and copy or get copied by other users.
Payment Methods
Bank Transfer, Wire Transfer
Full regulations list:
CySEC, FCA
Min. Deposit
$20
Exclusive promotion
Margin Trading with full legal compliance
Description:
Cex.io offers exchange of fiat currency for Bitcoin Ethereum, Tether, and 23 other cryptocurrencies, as well as Bitcoin/Ethereum trading against the USD.
Payment Methods
Credit Card, Cryptocurrencies, Debit Card, Wire Transfer, skrill
Min. Deposit
$10
Exclusive promotion
The broker offers access to a trusted MetaTrader trading system
Pricing is ensured to be completely transparent, also providing accuracy and speed
Trade a Wide Variety of Assets with Leverage up to 1:500
Description:
LonghornFX is a true ECN STP broker dedicated to delivering a superior trading experience to traders no matter their level of experience. Their services are based on transparency, innovation and efficiency, ensuring an unparalleled trading experience for all.
Payment Methods
Bitcoin, Credit Card, Debit Card, Visa
LonghornFX offers high-leverage trading on a wide variety of assets. Trading with leverage carries a degree of risk which may result in losing more than your investments. Clients should practise risk management to protect themselves from losing more than they can afford when trading with leverage.
Advantages and Disadvantages of Buying Litecoin with PayPal
Pros
One of the most convenient methods
More reasonable fees than credit cards
Good SSL security encryption
Suitable for bulk purchases
Cons
Pricier than bank transfers
Not available on many exchanges
Fees when Buying Litecoin with PayPal
PayPal provides a level of convenience that bank transfers do not, as well as offering reduced fees compared to credit cards.
Many people are surprised to learn that PayPal does not actually charge for payments. However, the company does charge merchants for receiving payments and that is why you will still encounter fees when you deposit to a cryptocurrency broker or exchange.
These fees are passed on to you and are sometimes referred to as 'convenience fees'. Typically, they are less than 5%, but it is a good idea to confirm these fees before depositing to a platform.
If you plan on taking profit regularly with repeated transactions made to a platform, you may want to consider a bank transfer to preserve more of your profit.
That said, PayPal still offers a convenient solution for people who are not tech savvy and merely want to buy Litecoin in bulk for a one-time purchase.
Is Buying Litecoin with PayPal the Best Method
As mentioned earlier, the best method for buying Litecoin will depend on the type of investor you are and your priorities.
If you value cost then there are more affordable methods than PayPal, such as a bank transfer. However, if you prioritise convenience then there are more convenient ways, such as a credit card.
PayPal is useful because it provides a combination of convenience and speed (approx 2.5 minutes per transaction) with a fee structure that is fine for one-off transactions.
Frequently Asked Questions
Charlie Lee launched Litecoin in 2011 as a "lite version" of the bloated Bitcoin blockchain.

Before you buy Litecoin for the first time there are a number of things you should consider. These include the broker or exchange to use, your preferred payment method, storage options, security and fees.

Brokers typically have a far simpler interface than cryptocurrency exchanges, so their ease of use is a big advantage for beginner traders who wish to make a one-time purchase.

They vary widely and it is a good idea to only use recommended brokers and exchanges. Look for one that employs two-factor authentication (2FA) for security, an authentication mechanism that requires users to provide two pieces of digital evidence for verification. If you have coins on an exchange, withdraw them to a wallet you control.

It depends. If you purchase Litecoin with an exchange instead of a broker, you will need to store your coins safely. A number of storage options currently exist with varying degrees of risk. Current options include leaving the coins on an exchange, moving them to a mobile or desktop wallet , or moving the coins to a hardware wallet like a Ledger Nano. If you are happy just to buy exposure to Litecoin price movements, consider a broker.

When you trade Litecoin on a cryptocurrency exchange you will be subject to numerous fees, including exchange fees, blockchain fees and in some cases gas fees. Litecoin brokers offer a platform where you can speculate on the LTC price without these fees and without costly slippage — this is when a market order is executed at a different rate than was set in the order.

Yes. Litecoin will never produce more than 84 million coins compared with Bitcoin's 21 million coins. This disparity will likely not matter in the long run, as Litecoin is attempting to be a point of sale (P2P) currency, while many argue that Bitcoin has diverted from that vision.

Litecoin has been a staple of the top 20 coins on the cryptocurrency market cap for years now. With cryptocurrency only beginning to see real adoption, Litecoin could be well positioned to capitalise on the switch to digital money.

Private keys are a sophisticated form of cryptography that allows a user to access his or her Litecoin. If you lose your private keys, you lose your coins.

than Litecoin's blockchain is seeing currently.