Buy Maker Coin: Building the World's Best Stability Coin
Maker MKR is one of the most interesting projects in crypto. The Maker MKR community is trying to create the ultimate price-stable coin, and MKR is the currency which makes this possible. Check out our complete Maker MKR guide for complete details. For the rest of this guide, we'll show you exactly how to buy some Maker coins of your own.
Buy Maker in just a few minutes
Create a free account
Set up your trading account with eToro for free with your name, an email address and telephone number
Fund your account
Choose your preferred payment method and activate the account with the minimum deposit into your account
Start trading Maker
Choose a cryptocurrency by clicking 'Trading Markets', set your risk limit and click 'Get Started' to start your investment strategy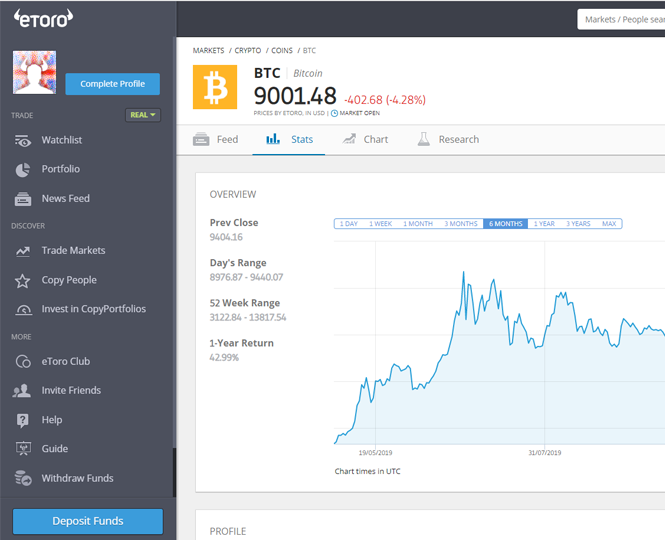 Min. Deposit
$50
Exclusive promotion
Accepts customers from the USA
Offers 15 crypto coins to buy&sell including BTC, LTC, ETC, NEO and more
Trade on the world's leading social trading and investing platform
Description:
eToro offers a wide range of cryptos, such as Bitcoin, XRP and others, alongside crypto/fiat and crypto/crypto pairs. eToro users can connect with, learn from, and copy or get copied by other users.
Payment methods
Wire Transfer, Bank Transfer
Full regulations list:
CySEC, FCA
Cryptoassets are highly volatile unregulated investment products. No EU investor protection. eToro USA LLC does not offer CFDs and makes no representation and assumes no liability as to the accuracy or completeness of the content of this publication, which has been prepared by our partner utilizing publicly available non-entity specific information about eToro. Your capital is at risk.
Min. Deposit
$1
Exclusive promotion
Description:
Coinbase is one of the first places that made it easy to buy bitcoin and has since become a widely trusted exchange in the market.
Payment methods
Credit Card, Debit Card, Euro Bank Account, 3d Secure Credit Card
Min. Deposit
-
Exclusive promotion
Supports Multiple Altcoins
Description:
KuCoin is a global cryptocurrency exchange for numerous digital assets and cryptocurrencies. Launched in September 2017, KuCoin has grown into one of the most popular crypto exchanges and already has over 5 million registered users from 200+ countries and regions. According to Alexa traffic ranking, KuCoin's monthly unique visit ranks the top 5 globally.
Min. Deposit
$1
Exclusive promotion
Huge range of cryptocurrencies
Description:
Binance has grown exponentially since it was founded in 2017 and is now one of, if not the biggest cryptocurrency exchanges on the market.
Payment methods
Cryptocurrencies
The Difference Between Trading and Buying
The ultimate beginner's guide to trading Maker
What is Maker Coin (MKR)?
Explaining Maker MKR in a few sentences is tough, but we'll do our best. MKR is related to another cryptocurrency, DAI. Each DAI is worth $1 all the time. People who use DAI have to lock up other cryptocurrencies like Bitcoin and Ethereum, and this collateral gives inherent value to their DAI, and the other DAI in the system. However, if the coins used as collateral ever lose value, MKR coins will be created and sold to pay that debt. On the other hand, if the cryptocurrencies used as a collateral rise in value (as most of us think they will in the long term), MKR coins will be destroyed because they won't be needed, and people who hold Maker MKR will find that their coins are worth a lot more money! This has already been proven to work, as Maker MKR went from a price of just $24 USD last year to almost $1,700 in January 2018! At just over $700 today, Maker coin is a must-buy for many. If you feel the same way, we'll now show you how to buy Maker coin of your own.
How to Buy Maker Coin MKR: 
There are many ways to buy Maker coin MKR, but we're just going to show you the easiest methods. Maker has a platform which you can choose to use if you wish, but for the purposes of this guide, we're going to assume you just wish to invest in Maker MKR. To do this and to hold Maker coins safely, we're going to start by creating a Maker coin wallet. Maker MKR was launched using the Ethereum blockchain, so it's storable in a multicurrency wallet called MyEtherWallet. MyEtherWallet supports Ethereum and all Ethereum-based tokens (ERC20 tokens). Maker MKR was a very early ERC20 token.
Invest in smaller altcoins before price rises
Storing Maker Coin in MyEtherWallet
Start by going to
 MyEtherWallet.com
. Choose to create a wallet. Carefully write down or otherwise store your Account Address and Private Key. The Private Key can be used to regenerate your MyEtherWallet anywhere in the world, or in the unfortunate event that you get locked out of your account. Anyone else can use your Private Key for this purpose too, so keep it safe! Once inside your MyEtherWallet, take note of the Account Address in the upper right corner. Anyone who sends you Maker MKR will need this address. Also, note the grey "Show Tokens" button at the bottom right. Click this and a long list of all supported currencies will appear. Click "MKR" in this list, and your balance of Maker MKR coin will be displayed. This will come in handy later. Now let's show you how to buy Maker coin.
Buy Maker Coin: Bibox Exchange
Maker coin isn't sold on any very popular exchanges, and yet it's in the top 40 cryptocurrencies in the world. This means that there's some demand for Maker coin and that investors are willing to do what it takes to buy it. BiBox is a Chinese exchange, but it's easy to use and shouldn't give you much trouble. But first, you'll have to buy Bitcoin. When you use a traditional exchange like BiBox, fiat currencies like US Dollars are not accepted. Instead, popular cryptocurrencies like Bitcoin and Ethereum must be sent to Bibox, and then the customer can trade these for less popular currencies like Maker MKR. Go to 
Coinbase.com
, open an account, and buy some Bitcoin. When it arrives, you're ready to move on through the rest of this section. Start by going to Bibox.com and creating your account.
When you've completed your Bibox registration and are inside your new account, click on "Funds" at the top of the page. This will take you to a page where all Bibox wallets are displayed. There's one wallet for every coin traded on Bibox, and if you were to buy all of these coins, this is where they will be stored. This is also where you'll send your Bitcoin which you will use to trade. The Bitcoin wallet is first on the list. Click "Deposit" beside it. In the popup window that follows, you will see an alphanumeric address. This is the address to your Bibox Bitcoin wallet. Copy this address and go back to Coinbase. Go to your Coinbase Bitcoin wallet and click "send". Paste your Bibox Bitcoin address into the address line, and send all of the Bitcoin you want to use to buy Maker coin. This should appear in your Bibox Bitcoin wallet in less than half an hour. Now you're ready to buy! Click on "Token Trading" at the top left of the screen, then choose "Basic". On the following screen, click "trading pairs". Choose Bitcoin as the trading coin, and then type "MKR" into the search bar. This will bring up the trading pair pictured below. Click it, and the larger page will change to give you the ability to buy Maker coin.
You can see the rest of the page below. It looks complicated at first, but it's pretty easy to explain. This will all be familiar to anyone who has used Binance, because Bibox is almost a carbon copy of that larger exchange. First take a good look at it, then we'll explain what all of this stuff represents.
In the middle of the screen, you'll see a candle chart, representing the recent Maker coin price history. Each candle represents a unit of time (minutes, hours, weeks – all selectable above the chart). Red candles mean that the Maker coin price fell during the time period represented by the candle. Green candles indicate a time when the price rose. On the right side of the screen, we see a list of all of the recent trades for Maker coin that happened on Bibox exchange. Red trades are sell orders. Green trades are buy orders. On the left side of the screen, you can see 
open
 buy and sell orders – orders which have yet to be filled. The green ones are the buy orders, with the highest bid price at the top. The red ones are sell orders, with the lowest sell bid at the bottom. Now let's look at the middle bottom of the screen at the little menu with the green button.
The "price" line is already filled in, using the lowest price at which a current MKR owner is trying to sell their coins. This price is measured in Bitcoin. If you buy at this price, your order will probably be filled in seconds. If you want to wait for a lower price, you can put any Bitcoin value into the "price" line instead, and hope the market swings low so that your order will be filled. Next, decide how many MKR coins you want. Maker MKR is divisible, so you can buy 1.9348584, if you'd like, or any other number. If you want to simply spend all of your Bitcoin, just click the "100%", then click the green button, and your new Maker coins will be delivered to your BiBox Maker wallet. Let's go there now so that you can send your Maker coins to your MyEtherWallet account for safekeeping. Let's go to "Funds" again. This time, type "MKR" into the search bar, and your Maker wallet will stand out from the bunch. Click Withdrawal, as shown below.
Go back to your MyEtherWallet and copy your Account Address. Take this back to BiBox and input it in the "address" line on your MKR withdrawal window. Choose to send all of your MKR, confirm the transaction, and your new Maker MKR coins will appear in your MyEtherWallet account in a few minutes. Congrats! You now know how to buy Maker coin.
Final Thoughts on Maker Coin
Maker coin is a remarkable idea that makes possible a very important utility in cryptocurrency – a price stable coin for trading and hedging. MKR is exciting for investors because when the Maker system works well, Maker coins are worth more. If you believe in Maker as a system, as we do, then you'll definitely understand why this innovative cryptocurrency is worth space in your cryptocurrency portfolio.
Buy Now
To buy cryptocurrency, you must create a wallet for yourself to hold the tokens. Trading does not require this.
Ownership:
If you wish to support the ethos of the cryptocurrency, buying is better. If you are looking to profit on investment, trading offers more options.
Different Goals:
Trading through a CFD is much more likely to provide more regulation to protect investment. Buying does typically offer this added security.
Regulation:
MakerDAO is a slightly less well-known protocol, but has a very interesting use case…