How to Buy Steem Coin and Why That's a Good Idea
Steem coin is one of the best attempts we've seen at a sticky, consumer-focused blockchain product aimed at the average young internet junkie. Steem coin is a cryptocurrency with its own attributes, but it is most often used on 
www.Steemit.com
 which is more or less a clone of Reddit, with extra economic incentives.
Steem coin trades on many common crypto exchanges, but there's another currency called Steem Dollars which is used only on Steemit itself. But that's not all! There's also Steem Power, yet another Steemit-specific currency you're likely hearing about for the first time. Plus we've got powering up, powering down,…what's with all these terms?! Well don't worry, friends. It's not as complicated as all that. Stay tuned, and we'll explain how the Steemit financial system works, as well as why we think that if you were to buy Steem coin you would absolutely not regret it.
Buy Steem in just a few minutes
Create a free account
Set up your trading account with eToro for free with your name, an email address and telephone number
Fund your account
Choose your preferred payment method and activate the account with the minimum deposit into your account
Start trading Steem
Choose a cryptocurrency by clicking 'Trading Markets', set your risk limit and click 'Get Started' to start your investment strategy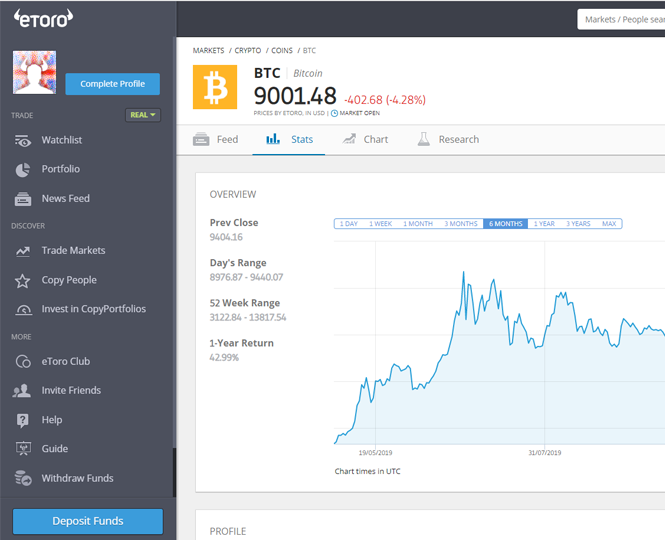 Min. Deposit
$50
Exclusive promotion
Accepts customers from the USA
Offers 15 crypto coins to buy&sell including BTC, LTC, ETC, NEO and more
Trade on the world's leading social trading and investing platform
Description:
eToro offers a wide range of cryptos, such as Bitcoin, XRP and others, alongside crypto/fiat and crypto/crypto pairs. eToro users can connect with, learn from, and copy or get copied by other users.
Payment methods
Wire Transfer, Bank Transfer
Full regulations list:
CySEC, FCA
Cryptoassets are highly volatile unregulated investment products. No EU investor protection. eToro USA LLC does not offer CFDs and makes no representation and assumes no liability as to the accuracy or completeness of the content of this publication, which has been prepared by our partner utilizing publicly available non-entity specific information about eToro. Your capital is at risk.
Min. Deposit
$1
Exclusive promotion
One of the largest cryptocurrency exchanges
High volume across all pairs
Perfect for large and small buyers/sellers
Description:
Bittrex Global has one of the most secure trading platforms and digital holding infrastructures in the world where customers can access exciting new products.
Payment methods
Credit Card
Min. Deposit
-
Exclusive promotion
Cold Storage & 24/7 Monitoring
Description:
Founded in 2014, Poloniex is a global crypto-to-crypto exchange headquartered in Seychelles. As of Feb 2020, it has over 100 markets available for spot trading and offers features such as margin trading, lending, and staking. Poloniex allows users to trade on the web, Android, iOS, Websocket, and HTTP APIs
The Difference Between Trading and Buying
The ultimate beginner's guide to trading Steem
What is Steemit?
You can't talk about Steem without talking about Steemit, the social media platform upon which it is built. Steemit is a place where people from all over the internet can submit content: images, videos, blog posts, original stuff, stuff other people made that you simply enjoy and want to share, etc. The visual format and general concept is very similar to Reddit, for those of you who are familiar.
Invest in SteemIt before price rises!
What Are Steem Dollars and Steem Power?
If someone likes a piece of content that you submit, they may choose to "upvote" the content which makes it more visible by all users of the Steemit platform. Up till now, the model is no different than Reddit, but here's where Steem Dollars come into play. Every time someone upvotes your content, you earn Steem Dollars which can be cashed out for different crypto or fiat currency. Steemit users can also acquire Steem Power, which is another digital currency used only within Steemit. The more you use and contribute to Steemit (upvoting, adding original content, finding interesting videos from around the web, etc.), you will be given Steem Power. The more Steem Power you have, the more your upvotes count. Your upvotes also result in other users receiving Steem Dollars.
Are Steem Dollars the Same Thing as Steem Coin (SMT)?
It might be confusing at first, but Steem Dollars are not the same thing as Steem coin. Steem coin is a currency sold everywhere and can be traded for any other cryptocurrency. Steem Dollars only exist in Steemit. 1 Steem Dollar is always worth 1 United States Dollar, or at least very close. This mechanism helps Steemit users understand how much money they are contributing to other users, as well as earning themselves. When a user wants to cash out of the system, they'll be able to turn their Steem Dollars into a USD equivalent amount of Steem coin, which can then be taken away from Steemit and used for any other purpose. Steem Power coins can also be cashed out in a process called "powering down", but the process is incredibly slow because Steemit wants you to keep your Steem Power in the system if possible.
Should I Feel Bad That I'm Confused?
Don't feel bad! The Steem coin and Steemit financial system is a little baffling the first time you hear about it, but once you've used Steemit, you'll quickly get the hang of it. Just remember that Steem coin is the currency that's universally traded. You can invest in Steem coin. You can buy Steem coin and trade it for 
Ethereum
. Steam Dollars and Steem Power only exist in Steemit, and you don't have to think about them to use Steemit. You can just go to Steemit and chuckle at cat videos. But if you get interested and want to start to monetize behavior that you do anyway (enjoying and contributing content to social media platforms like Reddit), then you can dig deeper. For our purposes, we're only going to talk about how to buy Steem coin. By now you understand that Steemit exists and you can go down that rabbit hole whenever you please. Read on if you are interested in the Steem coin price, how to invest in Steem coin, and how to buy Steem coin in the most easy way possible.
How to Buy Steem Coin
As you can see, Steem has an immediate utility because more and more people are using Steemit every day. It's easy to see how people would be attracted to a "blockchain version of Reddit", with the opportunity to make money while using it. If you agree with us that Steem coin has solid investment potential, here's how to buy Steem coin for yourself. Note: We're showing how to buy Steem with 
Bitcoin
 on Bittrex. Bitcoin is very expensive to spend and transfer right now, so we try to avoid using it in examples when possible. However, users can trade Ethereum for Steem at Poloniex.com, so head on over there if that works better for you and your digital wallet.
Step 1:
 Navigate to Bittrex.com. Create an account if you do not have one and send Bitcoin to the Bitcoin wallet address you find in your new account. If you have a Bittrex account that's already funded, all you have to do is type in "Steem" into the Bitcoin Markets category at the top of the Bitcoin Markets page. You'll see the BTC-STEEM trading pair. Click it to go to the Buy/Sell page where you can buy Steem Coin. (Note: you can also buy Steem Dollars on Bittrex, but remember, they're only useful within the Steemit platform)
Step 2: Now all you have to do is buy Steem Coin. On the bottom lefthand corner of the screen, you'll see a table labled "Buy STEEM" beneath "Trading". Here you'll put the price (in Bitcoin) that you would like to pay for a single Steem Coin. You can see the current Steem coin prices on the right side of the screen. The "Bid" prices are the prices Steem coin buyers are offering to Steem coin sellers. The "Ask" prices are the prices at which Steem coin sellers are offering Steam coins to Steem coin buyers. Step 3: Choose the value you'd like to pay for 1 Steem coin. Then choose how many Steem coins you'd like to buy at that price. Bittrex will instantly show you how much Bitcoin you will need to make that trade. If you want to use all of your Bitcoin to get as many Steem coins as possible, just hit "Max". Now hit "+ Buy STEEM". Step 4: Now all you have to do is wait. If your price was reasonable to sellers (meaning as much or more than they were selling their Steem coins, in Bitcoin), then your order should be filled quickly. If your price was lower than current market asking price, you'll have to wait until Steem coin (maybe) drops in value to the level at which you made your order. When your order is complete, you'll find your shiny new Steem coin in your Bittrex Steem wallet, where you can then do with it as you please. We recommend transferring them to the e
Steem mobile wallet
, or going straight to Steemit.
Will Steem ever make it to Coinbase?
That is a good question and given Coinbase's strict requirements to get onto its platform you would hazard a guess that the answer is no. However, steem has a lot of potential, the underlying product is an exciting idea that, given we are in the millenial generation, could easily be huge. With social media taking over day to day life for many people, steem offers a source of income through all of it. Looking at the cryptocurrencies that are currently on 
Coinbase
, steem isn't of the same ilk. It has a lot more practical uses but the blockchain is not quite the same as that of ethereum and bitcoin. So the chances are that steem will not make it onto Coinbase anytime soon, but if it continues to grow and the idea can take off, then Coinbase will have to take note and consider it as an option. Realistically, we are talking about this being years away though. The next in line to a Coinbase seat looks to be ripple, who's technology has been adopted by many large banks. Steem would have to be in the Facebook category to get any recognition from Coinbase.
What's the Future of the Steem Coin Price?
At this point, any investor is going to be wondering what the Steem coin price is going to do in the future. The Steem Coin market cap is only 
$691,736,867
USD at the time of this writing (late December 2017). That might sound like a big number (and it is), but when we compare that to the $3.8 million NEO market cap, you start to see that it's not so big a number after all. 
Steem coin is in the sweet spot. It's well known and developed enough to enjoy a decent sized Steem coin market cap, and a sizable/growing number of active users. It's very likely that with this much activity and development, Steem coin and Steemit are only going to grow. Steemit is mostly used in the United States. It has amazing growth potential into international markets if all continues going well. We can't predict the future, but it's easy to imagine double digits for Steem coin price in 2018. Like so many good coins out there in the marketplace right now, get this one while you can.
Final Thoughts About Steem Coin
Steem coin has an interesting place in the crypto universe, specifically because it operates as a currency in the general market, but as a system-specific currency in an active social media community. Lots of people have had ideas like this about how to use cryptocurrencies, but this is perhaps the most successful application of such idea that we've seen yet. This creates a lot of opportunities for Steam coin and Steam coin holders moving into the future. We think that as Steem coin continues to be added to large exchanges, and as users continue flocking to Steemit, you're going to see this crypto really grow. Being introduced on an international exchange like 
Binance
 could do a great deal to introduce Steem coin and Steemit to an audience outside of the United States. There's a lot that could go right in this project. It's definitely one which we will be keeping our eye on in the coming year.
Buy Now
To buy cryptocurrency, you must create a wallet for yourself to hold the tokens. Trading does not require this.
Ownership:
If you wish to support the ethos of the cryptocurrency, buying is better. If you are looking to profit on investment, trading offers more options.
Different Goals:
Trading through a CFD is much more likely to provide more regulation to protect investment. Buying does typically offer this added security.
Regulation: