How to Buy VeChain
VeChain is one of the hottest items in the cryptocurrency space, and not without reason. For years now, crypto analysts have been heralding the potential for blockchain to revolution the supply chain industry. And while that might sound as interesting as…I don't know…watching a supply chain in action, this is actually one of the most tangible purposes for blockchain technology yet conceived. We'll describe what this all means in just a bit, but for now simply understand that VeChain's great potential makes VeChain coin something that many people want to own. **Note: If you are reading this post near the time of its publication, crypto prices are likely still in the toilet. This means that the VeChain price (barring a total crypto nuclear event) could be the lowest we see again.**
Buy VeChain in just a few minutes
Create a free account
Set up your trading account with eToro for free with your name, an email address and telephone number
Fund your account
Choose your preferred payment method and activate the account with the minimum deposit into your account
Start trading VeChain
Choose a cryptocurrency by clicking 'Trading Markets', set your risk limit and click 'Get Started' to start your investment strategy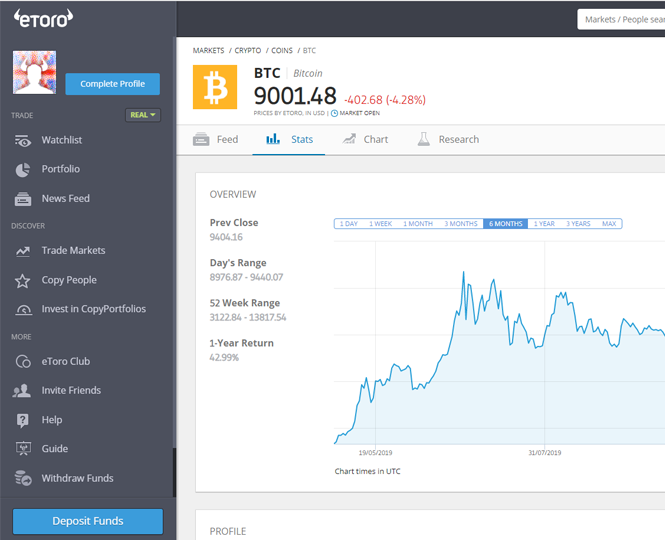 Min. Deposit
$50
Exclusive promotion
Accepts customers from the USA
Offers 15 crypto coins to buy&sell including BTC, LTC, ETC, NEO and more
Trade on the world's leading social trading and investing platform
Description:
eToro offers a wide range of cryptos, such as Bitcoin, XRP and others, alongside crypto/fiat and crypto/crypto pairs. eToro users can connect with, learn from, and copy or get copied by other users.
Payment methods
Wire Transfer, Bank Transfer
Full regulations list:
CySEC, FCA
Cryptoassets are highly volatile unregulated investment products. No EU investor protection. eToro USA LLC does not offer CFDs and makes no representation and assumes no liability as to the accuracy or completeness of the content of this publication, which has been prepared by our partner utilizing publicly available non-entity specific information about eToro. Your capital is at risk.
Min. Deposit
-
Exclusive promotion
Global new first-tier exchange
Supervision and audit from third-party institutions
Operating through multiple platform terminals
Description:
BKEX is a centralized cryptocurrency exchange located in British Virgin Islands. There are 254 coins and 415 trading pairs on the exchange.
Min. Deposit
$1
Exclusive promotion
Huge range of cryptocurrencies
Description:
Binance has grown exponentially since it was founded in 2017 and is now one of, if not the biggest cryptocurrency exchanges on the market.
Payment methods
Cryptocurrencies
The Difference Between Trading and Buying
The ultimate beginner's guide to trading Vechain
Why is VeChain Coin/VeChain VEN Good for Investors?
As always, investors should do their own research, because there is more to understand about VeChain than can be contained in a 2000-word post. Later on and in the FAQ we'll cover details related to VeChain Twitter, the VeChain wallet, the VeChain ICO, etc. But as always, read up on your own from diverse sources. That said, VeChain Coin/VeChain VEN is a unique opportunity for investors, because it stands a chance of becoming the new industry standard for global supply chain management. There's always risk in cryptocurrency investment, as the crash of January/February 2018 more than proves, but VeChain is a great project. There are multiple crypto players vying for market share in the blockchain-driven supply chain space, including well-known projects like Walton. However, VeChain has found unique technological solutions which make them uniquely fit for the task. To say the least, we are bullish on VeChain price. Now, on to how to buy VeChain.
How to Buy VeChain Coin/VeChain VEN
As with many things in life, to buy VeChain there's an easy way and a hard way. There are pros and cons. We'll show you the easy way to buy VeChain coin through VeChain Binance listings. How to Set up your VeChain wallet.
Vechain VEN is an ERC20 token. This means that the coin was released using the Ethereum blockchain. There's an Ethereum wallet called
MyEtherWallet
which holds Ethereum, as well as all of the coins released using the Ethereum blockchain. It's easy to make an account using basic personal information. Be careful to write down or take a picture of your private keys as provided while making your account. Inside, you'll find your MyEtherWallet address.
The Buy VeChain Binance Option
This is the DIY mode, and while it's not as simple it'll save you a tiny bit of money and teach you a skill you can use to trade cryptocurrencies of all sorts. We'll do a careful step by step so you know exactly what you're doing. You'll need to make the VeChain wallet as described above. Also, you'll need Bitcoin to trade for VeChain coin. You can buy Bitcoin on
Coinbase
,
Changelly
,
CEX.io
, or
Coinmama
. When your Bitcoin arrives, you'll be ready to move to the next step.
How to Send Your Bitcoin to Your Binance Bitcoin Wallet
This is how to send Bitcoin from the wallet you have it in (likely on the platform you used to buy it) to your Binance Bitcoin wallet.
Start by navigating to the "Funds" page on Binance and choosing "Deposits" on the little dropdown menu. Type "Bitcoin" into the little text box you see in the image above. Click "deposit".
The next screen will reveal your Binance Bitcoin address. This is the address you will use to send your Bitcoin from the wallet where it's currently residing. Copy this address and go back to the other wallet. On the outside Bitcoin wallet, click "withdraw" or "send", as the case may be, and paste this address into the appropriate line. Double check to make sure it is correct. Then choose the amount of Bitcoin you wish to send, and complete the transaction. If you're nervous about doing this for the first time, just send a tiny amount of Bitcoin to make sure you are doing it right. When it arrives, you'll know how to repeat the process to send the rest.
How to Trade Bitcoin for VeChain on Binance
Hooray, your Bitcoin has arrived on Binance. Now what? First, click on "Exchanges", then click "Basic". This will take you to a screen very much like the one you see above. Just like in the image, type "VEN" into the little text box on the right, with the "BTC" box selected. This will bring up the "VEN/BTC" trading pair. Click it, and now you are ready to trade Bitcoin for VeChain VEN. At the bottom left hand side of the screen, you'll see the option to "Buy VEN". The market price will already be filled in, and you can use it or a lower price of your choosing (though you'll have to wait for the market price to drop, with the possibility that it might not). Fill in the number of VeChain coins you want to buy, then hit "BUY VEN". Your order should be completed in no time if you used the market price, and could take seconds, minutes, or days if you chose a lower price. When the VeChain VEN arrives in your Binance wallet, you're ready to move on to the next step.
Sending Your VeChain VEN to an Outside Wallet For Safekeeping
This is where your MyEtherWallet address comes back into play. Go back to the account as pictured right at the top of the buy VeChain guide portion of this VeChain review. Copy it and head back to your Binance account. Go to "Balances" then "Funds" and type "VEN" into the text box as seen on the image above. This will bring up your Binance VeChain wallet. Click "Withdraw". On this page, you'll be able to paste your MyEtherWallet address. Then choose the amount of VeChain you wish to send, then hit submit. Your coins should arrive in MyEtherWallet in a few minutes, but don't be alarmed if it takes longer. Again, if you're worried about messing up, just send a little bit the first time to make sure you have everything in the right place. That's it! You bought VeChain coin and it's in your private wallet.
What's Wrong With Today's Supply Chain Management?
To the average person "blockchain for supply chain management" is basically gibberish. This is not without reason. Supply chains are networks that most people never think about. And yet, they're the global systems by which all of our stuff gets from its point of manufacture/origin to a place we can buy it. This is all well and good, but there's a problem with current supply chains. They make it really easy to cheat. How do you know that the hair product you just purchased doesn't contain palm oil? You don't. You trust that this is the case, and sometimes you're lied to. How do you know pesticides were not used on those supposedly organic tomatoes? Again, you don't. You simply trust that this is the case. Blockchain has long been touted for its ability to create "Trustless" systems - networks that simply
prove
 that X is true, rather than us having to
trust
that a third party like a bank or a fruit company is telling us the truth. This all sounds promising, but what do VeChain and blockchain have to do with all of this?
Buy VeChain at Binance
Min. Deposit
$1
Exclusive promotion
Huge range of cryptocurrencies
Description:
Binance has grown exponentially since it was founded in 2017 and is now one of, if not the biggest cryptocurrency exchanges on the market.
Payment methods
Cryptocurrencies
How Can VeChain Coin Improve Supply Chains?
As many of your will already know, blockchains are among the most secure ways to store data. Once data is stored, it is protected by a extremely though-to-crack code. Then this code gets coded with another code when the next block is added. Then another code protects all the previous code when the next block is added. Data stored within one of these blocks is about as safe as it can be. VeChain is a project that wants to take a record of every event that happens on global supply chains, (using oranges as an example) from seed to harvest to supermarket to your homemade fruit salad. VeChain uses "VID" (VeChain Identification) technology to track every event that happens to a product, be it product or produce. These actions are stored, immutably, on the VeChain blockchain. This means that one day soon, you'll be able to tell for sure whether or not pesticides were ever used on your veggies, or whether slave labor was used to make your clothes. It's easy to imagine an app that simply scans a QR code and gives you a rating at the grocery store. There's work to be done, but this is one of the coolest applications of blockchain that will likely affect us all.
What Does VeChain Coin/VeChain VEN Do?
VeChain coin/VeChain VEN is the currency used to make the network run. The VeChain network is made up of "Nodes" (technology used by people and organizations to run VeChain core software), and actions on the chain are paid for with VeChain Coin/VeChain VEN. Nodes that contribute a lot to the VeChain network will also be paid in VeChain as an incentive to keep up the good work.
Final Thoughts on VeChain VEN
VeChain is a remarkable project that stands to change the way we think about and use products, goods, commodities, food, and more. For centuries, consumers have had to put a great deal of trust in the people who made their stuff - that the products were made according to the specifications the producer claimed, that there was no cheating or shenanigans involved in making or moving it. Nonetheless, bad products were foisted upon consumers who had no recourse but to accept what was available to them at market. If VeChain has their way, all of this knowledge will be recorded, stored immutably, and provided to the customer at the end of the chain. This will change the way we buy and use basically everything. As always with crypto, this might happen as we hope, or something else entirely might result. However, if VeChain happens in a big way, the current VeChain price may be the investment opportunity of a lifetime. Think about it.
Buy VeChain Now
To buy cryptocurrency, you must create a wallet for yourself to hold the tokens. Trading does not require this.
Ownership:
If you wish to support the ethos of the cryptocurrency, buying is better. If you are looking to profit on investment, trading offers more options.
Different Goals:
Trading through a CFD is much more likely to provide more regulation to protect investment. Buying does typically offer this added security.
Regulation:
FAQs
Binance is widely available, and VeChain sells on other exchanges you can see on CoinMarketCap.com.
The app will be used for all lab tests at two Cyprus hospitals, allowing…