How to Buy Verge Coin XVG
Verge coin is a privacy token that aims to improve upon the Bitcoin model, while offering its users much more in the way of anonymity. Verge Coin XVG is one of only two cryptocurrencies that gained value in Q1 2018, and for many crypto investors, this Verge coin XVG remains a coin-of-choice for today's crypto investors.
Buy Verge in just a few minutes
Create a free account
Set up your trading account with eToro for free with your name, an email address and telephone number
Fund your account
Choose your preferred payment method and activate the account with the minimum deposit into your account
Start trading Verge
Choose a cryptocurrency by clicking 'Trading Markets', set your risk limit and click 'Get Started' to start your investment strategy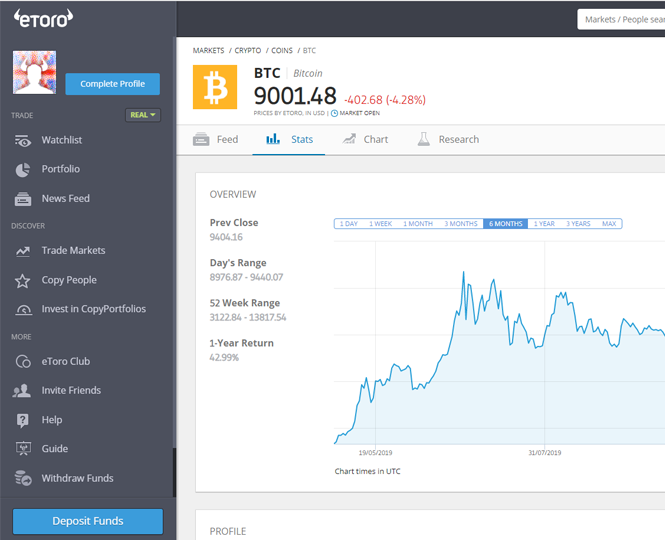 Min. Deposit
$50
Exclusive promotion
Accepts customers from the USA
Offers 15 crypto coins to buy&sell including BTC, LTC, ETC, NEO and more
Trade on the world's leading social trading and investing platform
Description:
eToro offers a wide range of cryptos, such as Bitcoin, XRP and others, alongside crypto/fiat and crypto/crypto pairs. eToro users can connect with, learn from, and copy or get copied by other users.
Payment methods
Wire Transfer, Bank Transfer
Full regulations list:
CySEC, FCA
Cryptoassets are highly volatile unregulated investment products. No EU investor protection. eToro USA LLC does not offer CFDs and makes no representation and assumes no liability as to the accuracy or completeness of the content of this publication, which has been prepared by our partner utilizing publicly available non-entity specific information about eToro. Your capital is at risk.
Min. Deposit
$1
Exclusive promotion
One of the largest cryptocurrency exchanges
High volume across all pairs
Perfect for large and small buyers/sellers
Description:
Bittrex Global has one of the most secure trading platforms and digital holding infrastructures in the world where customers can access exciting new products.
Payment methods
Credit Card
Min. Deposit
$1
Exclusive promotion
Huge range of cryptocurrencies
Description:
Binance has grown exponentially since it was founded in 2017 and is now one of, if not the biggest cryptocurrency exchanges on the market.
Payment methods
Cryptocurrencies
The Difference Between Trading and Buying
The ultimate beginner's guide to trading Verge
What is Verge Coin XVG?
Put very simply, Verge Coin XVG is the coin used on the Verge network, which is a payment system offering complete anonymity and control to its users. Verge coin is mined, just like Bitcoin. But when it comes time to send Verge Coin, users' addresses are obfuscated several times, using various means like the TOR onion network. Verge coin has a huge following, and many believe that it is the next big thing in cryptocurrency payment systems. There are firm believers among this bunch that Verge will one day replace Bitcoin as the world's crypto payment method of choice. You can do your own research and decide whether or not you agree. The Verge coin system has had a significant hiccup in recent days, as a 51% attack and fundamental network exploitation allowed dishonest miners to get Verge block rewards once a second until they had enough racked up to be worth well over $1,000,000. A hard fork is scheduled, and the Verge dev team is creating a long term fix to resolve the issue. Beyond this hurdle, there are countless rumors about Verge's advancements in the marketplace. There may indeed be major partnerships on the horizon, and the Verge blockchain system has already proved its up to the task in its early months of existence. If you're convinced and want a piece of this action, let's learn how to buy Verge coin, shall we?
How to Buy Verge Coin
Verge is one of the most popular cryptocurrencies in the world. As such, it's available through numerous trading channels. The sheer amount of options can be more than dizzying to the new cryptocurrency investor, so we've chosen the most convenient methods to buy Verge coin:
Binance
exchange. Binance is the most popular cryptocurrency exchange in the world, so if you want to become a regular cryptocurrency trader, you'll definitely want to acquaint yourself with it. In both cases, you'll need a Verge Wallet in which to store your Verge coin XVG once you've purchased it. All cryptocurrencies are stored in digital wallets. You can download the Verge wallet straight to your device, where your Verge coins will be much safer than they'd be on a centralized exchange like Binance, which people all over the world are trying to hack. Start by going to
Verge's wallet page
and downloading the wallet that works with your operating system.
Download the wallet and install it on your device. Once inside, click on the third button down on the column on the left. This will show you your Verge coin wallet Address. Anyone who has this address can send you Verge coin. You'll also need it after you buy coins on Binance or any other cryptocurrency exchange.
How to Buy Verge Coin With Binance
Binance is the most used cryptocurrency exchange in the world. They support a ton of different cryptocurrencies, and anytime a new coin is added to the exchange, its value leaps upward. Verge definitely benefited like this when it was finally included on Binance, and the Verge Binance volume remains high to this day. To use Binance to buy Verge, go to
Binance.com
and create an account. Sign up on the first page you're greeted with by inputting a working email and a unique password. Head over to that email account and click the Binance verification link contained in the email they've just sent you. Once inside your account, seriously consider adding 2 Factor Authentication, which will use a combination of your password and a code on an app you'll download (Google Authenticator or Authy), which only when entered together will allow entry into your account. This way, no one without your password AND your phone can get inside. Once you've created your account, click on "Funds" > "Balances", and you'll be taken to the above screen. This is a stack of all of the digital wallets in your Binance account, one for each of Binance's supported currencies which you could conceivably buy. To buy Verge you'll need Bitcoin. Buy Bitcoin at
Coinbase
, or anywhere else you prefer. Once you have it, click "Deposit" by the Bitcoin wallet and the following page will appear. This screen contains your Binance Bitcoin address. Copy this address and go to Coinbase, or wherever your Bitcoin is held. Choose "Send" and paste your Binance Bitcoin address into the "address" line. Complete the transaction and in about half an hour your Bitcoin will be ready in Binance. Now let's head over to "Exchanges" > "Basic" so you can finally buy Verge Coin XVG. You'll be taken to a page that looks like this:
This above image looks like the page you need, but it's set up for buying Komodo coin, which isn't what you want. To change it into a Verge Coin buy page, go to the right of the screen and type "XVG" into the little text box beneath the gold "BTC" block. This will cause all of the trading pairs to disappear except for "XVG/BTC". Click this and the page will change to a Verge coin buy page. It should look like the following. Notice how all of the mentions of Komodo in the previous image have been changed to "Verge". This page contains a lot of information, including recent Verge Coin price history, current buy and sell orders that have been initiated, recent order history, and in the bottom middle buying and selling options. You need to pay attention to the little menu with the green "Buy XVG" button beneath it.
Above you'll see everything you need to buy Verge coin on Binance. The current Verge coin price (for a SINGLE Verge Coin) is already filled in for "Price". For our purposes, we'll just use that price, although you can specify a lower price if you're willing to wait and hope for the market to drop. Beneath the Price line is the "Amount" line. Amount does not refer to how much Bitcoin you want to spend, but how many Verge Coins you want to buy, at the price listed in the line above. If you just want to sell all of your Bitcoin in exchange for Verge coin, simply click "100%". Your total will be listed in the "Total" section. If you are happy with the way this order is set up, click the green "Buy XVG" and in a few seconds, your order should be completed, and your Verge coins available in your Binance Verge Coin wallet. Let's go back to the "Funds" > "Balances" page to send them to your Verge coin wallet for safekeeping. Click "Withdraw" by your Verge coin wallet on this page. Go back to your personal Verge coin wallet on your device and copy the address (as described at the very beginning of the How to Buy Verge Coin section). Go back to Binance and paste it in the required field. Choose to send All of your Verge coin. Double check that your personal address is correct. When you're satisfied, click "Send" and your Verge coin will arrive in your Verge wallet on your device in a few minutes.
Buy Verge Coin XVG at Binance
Min. Deposit
$1
Exclusive promotion
Huge range of cryptocurrencies
Description:
Binance has grown exponentially since it was founded in 2017 and is now one of, if not the biggest cryptocurrency exchanges on the market.
Payment methods
Cryptocurrencies
Final Thoughts on Verge Coin XVG
Verge Coin XVG is a phenomenally popular cryptocurrency. Many people are fans of it because Verge emphasizes privacy so much, and has such an efficient way of accomplishing it for Verge's many users. This sentiment and forward momentum has caused Verge Coin's price to rise dramatically in Q1 2018. Only Ontology managed to do what Verge coin did, and show up green during the crash of about 1,600 other cryptocurrencies. No one can tell what the future holds for Verge coin. At the time of this writing, the hard fork to correct the 51% attack has not even completed. However, the Verge coin team has demonstrated their ingenuity and problem-solving acumen on many occasions, and we believe they are equal to the task of taking Verge beyond this bump in the road. Assuming this is the case, we think that the future could be very bright for Verge coin and its investors. Privacy concerns are not going away in cryptocurrency, or in the public cultural conversation. Verge coin could be positioned to take a great deal of market shares from privacy coins like Monero and ZCash, because of its current fan base and its ease of use as a payment option. Whatever the future holds, we'll be watching Verge coin closely. If you want to buy Verge coin, do your own independent research. But we think you'll agree with us that Verge coin certainly is impressive and promising.
Buy Verge Now
To buy cryptocurrency, you must create a wallet for yourself to hold the tokens. Trading does not require this.
Ownership:
If you wish to support the ethos of the cryptocurrency, buying is better. If you are looking to profit on investment, trading offers more options.
Different Goals:
Trading through a CFD is much more likely to provide more regulation to protect investment. Buying does typically offer this added security.
Regulation: