How to Buy Vertcoin - A True Bitcoin Alternative
In the following Vertcoin review, we'll cover all the things that are great about Vertcoin, hopes for Vertcoin's future, and instructions about how to buy Vertcoin for yourself.
Buy Vertcoin in just a few minutes
Create a free account
Set up your trading account with eToro for free with your name, an email address and telephone number
Fund your account
Choose your preferred payment method and activate the account with the minimum deposit into your account
Start trading Vertcoin
Choose a cryptocurrency by clicking 'Trading Markets', set your risk limit and click 'Get Started' to start your investment strategy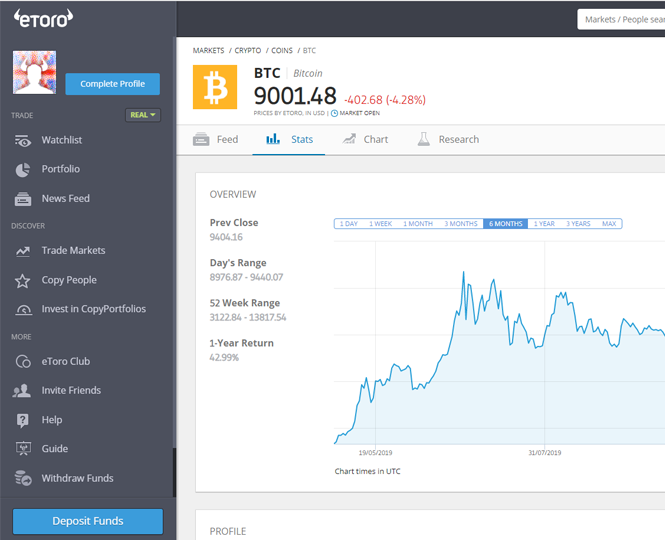 Min. Deposit
$50
Exclusive promotion
Accepts customers from the USA
Offers 15 crypto coins to buy&sell including BTC, LTC, ETC, NEO and more
Trade on the world's leading social trading and investing platform
Description:
eToro offers a wide range of cryptos, such as Bitcoin, XRP and others, alongside crypto/fiat and crypto/crypto pairs. eToro users can connect with, learn from, and copy or get copied by other users.
Payment methods
Wire Transfer, Bank Transfer
Full regulations list:
CySEC, FCA
Cryptoassets are highly volatile unregulated investment products. No EU investor protection. eToro USA LLC does not offer CFDs and makes no representation and assumes no liability as to the accuracy or completeness of the content of this publication, which has been prepared by our partner utilizing publicly available non-entity specific information about eToro. Your capital is at risk.
Min. Deposit
$1
Exclusive promotion
One of the largest cryptocurrency exchanges
High volume across all pairs
Perfect for large and small buyers/sellers
Description:
Bittrex Global has one of the most secure trading platforms and digital holding infrastructures in the world where customers can access exciting new products.
Payment methods
Credit Card
Min. Deposit
-
Exclusive promotion
Cold Storage & 24/7 Monitoring
Description:
Founded in 2014, Poloniex is a global crypto-to-crypto exchange headquartered in Seychelles. As of Feb 2020, it has over 100 markets available for spot trading and offers features such as margin trading, lending, and staking. Poloniex allows users to trade on the web, Android, iOS, Websocket, and HTTP APIs
The Difference Between Trading and Buying
The ultimate beginner's guide to trading Vertcoin
How to Buy Vertcoin
We're at the point in this Vertcoin review where we've explained why Vertcoin is great. So now let's discuss how to buy Vertcoin. We'll talk about the more advanced way where you'll buy Vertcoin on your own using Bittrex. In both cases, you'll need Bitcoin to trade for Vertcoin. Get it at
Coinbase
,
Cex.io
,
Coinmama
, or
Changelly
.
How to Create a Vertcoin Wallet
Once you have Vertcoin, by either of these methods, you're going to need someplace to store it. You can download the Vertcoin wallet from 
https://vertcoin.org/#downloads 
for your operating system. It will look like the image below. You can find your personal Vertcoin address under "Receive". Note: The Vertcoin wallet needs to download the full blockchain history before it "syncs up". This takes a few hours the first time. Don't freak out if your coins aren't displayed because usually the blockchain just needs to update within your wallet.
How to Buy Vertcoin on Bittrex
If you're an experienced trader or if you simply want to become more self-sufficient (while saving a little bit of money), the Vertcoin Bittrex option is for you. Bittrex is one of the biggest cryptocurrency exchanges in the world, where hundreds of digital currencies can be bought and sold. Due to the massive influx of new traders in the cryptocurrency industry, Bittrex was one of many exchanges which simply had to stop taking on new customers. This was unfortunate because just as many people were getting into crypto for the first time, they found themselves locked out by one of the market's biggest gatekeepers. But today, Bittrex has re-opened its doors! Sign up now so you can buy Vertcoin. Here's how.
Creating a New Bittrex Account
Start by going to Bittrex.com and hit "sign up". Input your email and new password. Agree to the terms. Indicate that you are not a robot if this is the truth. Click "sign up". Check your email for the Bittrex registration email. Click the url in that email. Back in Bittrex, add 2FA (2-factor authentication) to your account, which will add an extra passcode layer of protection each time you log in. Your 6 number passcode will be displayed on your phone (and only your phone) and will change every 30 seconds so that no one but you can log in to your Bittrex account.
How to Send Bitcoin to Bittrex to Buy Vertcoin
Now it's time to send your Bitcoin from the exchange where you bought it to Bittrex. Bittrex doesn't accept the US Dollar (or any other fiat currency) as payment, so this extra step is necessary. This may be changing soon, but for now, we've got to do this.
Start out by going to "Wallets" at the top of the homepage. This will take you to the screen you see above. Click "deposit" on the line for the Bitcoin wallet.
This screen will appear. Your Bittrex Bitcoin wallet address is in the "Address" line. Copy this and take it to the exchange wallet where your Bitcoin is currently held. Select "Send" or "Withdraw" as the case may be, paste the address where requested, and send that Bitcoin. It should arrive in about half an hour, after a bunch of confirmations (Requirement of Bittrex).
How to Trade Bitcoin for Vertcoin on Bittrex
Now that your Bitcoin is safe and secure in your Bittrex wallet, it's time to trade it for Vertcoin. Start by hovering over "B Markets" and type "Vertcoin" into the search line. Click the BTC/VTC trading pair and the following Vertcoin buy market screen will appear. You can find these instructions on Vertcoin Reddit as well, and the people there will be able to answer your questions quickly if there is confusion. But we think you'll be able to handle it. So now you're on the trading screen. There's a lot of information here. There's a chart that tells the store of the Vertcoin price history. On the right, you'll see the Vertcoin price currently offered by the lowest-priced seller, and the Vertcoin price offered by the highest priced buyer. If you want to buy Vertcoin immediately, it's usually a good idea to copy the current "ASK" price, because this is the lowest price currently available. Take this down to the "Buy Vertcoin" window on the bottom left. Paste the copied value into "Bid". This is the price you want to pay for 1 Vertcoin. But you want to buy more than one Vertcoin, so put this number in the line above it. If you just want to spend all the Bitcoin you have in Bittrex, hit "Max". When you're ready, click "+ Buy Vertcoin", the blue button at the bottom. You're done!
How to Send Vertcoin to Your Vertcoin Wallet
Now it's time to send your Vertcoin to the wallet you made earlier, so it'll be safe and sound. Go to "Wallets" on Bittrex. Type in "Vertcoin" to the wallets search bar. Click "withdraw" beside the Vertcoin wallet. This menu will appear. Go back to your Vertcoin wallet and copy the address we talked about earlier. Paste this into the "address" line you see above. Click the blue double upward arrow to indicate you want to send all of your Vertcoin. Click "Withdrawal". In a few minutes, your Vertcoin should arrive in your Vertcoin wallet. In addition to its value as a utility and payment system, Vertcoin offers a great deal to the investor. The current Vertcoin price is down from its all-time-high just a couple of months ago, and to buy Vertcoin now would likely put the investor in a situation to ride Vertcoin back to the top, and beyond.
How is Vertcoin Different From Bitcoin?
So if Vertcoin is kind of like Bitcoin but not quite, why do we need both? To understand this, we have to know a little bit about how Bitcoin works. Bitcoin uses the computer power of "miners" to make the network run. These miners have powerful computers that do two main things.
Miners check to make sure people who send Bitcoin actually have the Bitcoin they say they have. This keeps people from sending fake Bitcoin and cheating the system.
Miners also randomly generated long codes called "hashes", millions every second. Somewhere in these long chains of random letters and numbers, there's a specific code that "locks" the "block" that contains the Bitcoin transaction records. Whoever finds this secret code first gets a reward of 12.5 Bitcoin (the first time these coins have ever existed in circulation, just like if they were actually mined), which today is worth about $125,000. Not a bad day at work. Miners all over the world are looking for these codes, so there is big competition.
Because being a Bitcoin miner is so potentially profitable, miners give themselves advantages by hoarding more and better computers than the competition. This has been going on for years and has produced an arms race resulting in special GPUs being produced that do nothing but mine Bitcoin. These GPUs are called "ASICs", which stands for "application specific integrated circuit". ASICs are better at mining Bitcoin than any other kind of computer. The problem is that the companies that create ASICs are using their own technology to mine Bitcoin better and faster than anyone else.
Why Are ASICs a Problem?
This creates a situation where a very few people own huge percentages of Bitcoin's total mining power. What's more, if a single mining entity were ever to be able to buy up 51% of Bitcoin's hash power, they'd be able to do almost anything they wanted with the system, including making software changes, committing global finance fraud, or creating new Bitcoins out of thin air. Bitcoin doesn't have a good way to correct this situation. But you know who does? Vertcoin, that's who.
How Vertcoin Solves Bitcoin's Biggest Problems
Instead of giving miners this huge advantage and potentially endangering their own system, Vertcoin is constructed so that ASICs don't work on it. And, if ever an individual mining group gets too much power, Vertcoin simply "hard forks" to rebalance the network. A hard fork occurs when Vertcoin developers take a copy of the Vertcoin software, make important changes that will make the network better, then convinces all of the Vertcoin miners to use the new software. Vertcoin has hard forked twice already, both times to control mining. Vertcoin also offers its users more anonymity than Bitcoin, through newer versions of the Vertcoin wallet. Vertcoin also adopted Segregated Witness and the Lightning Network, both technologies which will help Vertcoin be fast and functional for many years to come. But Vertcoin's main selling point is its mining rules. Because it's almost impossible for anyone to mine Vertcoin at industrial scale (like large mining groups do with Bitcoin), this levels the playing field for miners and makes it easier for new miners to get involved.
Vertcoin Value in the Present Crypto Market
Vertcoin was founded in 2014, making it one of the older cryptocurrencies on the market. It crashed along with everything else in 2014, and Vertcoin value was next to nothing for a couple of years. $0.01 prices were not uncommon. Vertcoin CoinmarketCap is a good place to see the whole history. Today, the Vertcoin price is over $4 (VERY good for investors who bought in after the 2014 crash), down from a high of almost $10. Vertcoin had a very good 2017, which saw the Vertcoin price soar to new heights. Here's why we think Vertcoin VTC has value today.
Vertcoin has a huge community. This is one of the best-known projects in the industry. This gives Vertcoin a strong foundation for future growth and development.
Vertcoin's mining protocol is among the most secure and well-proven in the business. While many crypto projects are theoretical, we know this one works.
Vertcoin is spendable at some places online. With further adoption, it will be useful in more retail scenarios.
Vertcoin isn't going to be taken over by private or corporate interests. This is a decentralized blockchain. Power to the people.
As the cryptocurrency industry continues to recover from the recent crash, we think that Vertcoin investors will be very pleased with this portfolio holding.
Final Thoughts on Vertcoin
For a proof-of-work coin (coin that uses mining), Vertcoin is one of the best designed. It has an incredible community, a strong history, and a great path forward in 2018. We think investors will be very pleased after getting in at this Vertcoin price. Good luck!
Buy Vertcoin
To buy cryptocurrency, you must create a wallet for yourself to hold the tokens. Trading does not require this.
Ownership:
If you wish to support the ethos of the cryptocurrency, buying is better. If you are looking to profit on investment, trading offers more options.
Different Goals:
Trading through a CFD is much more likely to provide more regulation to protect investment. Buying does typically offer this added security.
Regulation: